SPATEX preparing for inaugural 'Spa Day'
SPATEX 2015 organisers are busy making final preparations to host a dedicated 'Spa Day' for hot tub and swim spa retailers when the 19th edition of the exhibition returns to the Ricoh Arena at the start of February.
In a bid to put the 'SPA' into SPATEX, running from February 1 to 3, the inaugural Spa Day is scheduled to take place during the final day, on Tuesday,  and will commence at 10am in the Jaguar Exhibition Hall.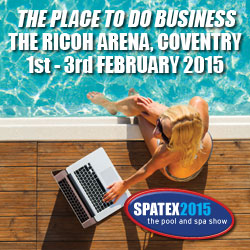 Leading experts have been lined up to provide guidance and spa water care advice to visiting hot tub and swim spa retailers during the specialist subjects in the morning and afternoon sessions. These include: 'Water Treatment of Display Spas'; 'Water Treatment of Domestic Spas'; 'Servicing Domestic Spas'; and 'Commercial Spa Legislation'.
A 'Spa School-Open Forum' will then close the day-long session ahead of the curtains coming down on the second appearance for SPATEX in Coventry, which will provide training throughout the three-day exhibition.
Institute of Swimming Pool Engineers (ISPE) members will be joined by an impressive line-up of representatives from the Pool Water Treatment Advisory Group (PWTAG); Amateur Swimming Association (ASA); and Swimming Teachers' Association (STA); to provide a full range of training and professional guidance, throughout the three days of the exhibition and on the Spa Day.
Ross Alcock of ISPE revealed that the Spa Day training focus was as a result of SPATEX visitor feedback and the requirement for tuition on water care for commercial spas, as well as domestic models; in addition to pool maintenance and water treatment.
"We have responded to visitor feedback, which called for a greater focus on spas in addition to that already awarded to pools," explained Ross.
"We have put together an expert-led package with something for everybody who is involved with either commercial or domestic spas, whether it is managing their use, installing, servicing or selling them."
SPATEX organiser Michele Bridle believes the event will provide visitors with an unbeatable opportunity to increase their knowledge of water treatment and product safety.
"No other wet leisure exhibition is able to offer so much expert-led training all under one roof," said Michele.
Once again SPATEX regulars Catalina Spas, Certikin International, Golden Coast, SCP UK and Spa Crest Europe will be targeting hot tub retailers and will be joined by many exhibitors that were not involved in the first outing in Coventry including Marquis.
After a break from the event last year, Elite Spas have announced that they will be returning to promote their wide range of hot tubs and swim spas at the exhibition this year, while Aqua Spa Supplies will make their SPATEX debut at the second Ricoh Arena outing, along with first timer Hydrospares. The event has also attracted Canadian Spas and Scarborough Spas to promote their products to trade visitors during the three-day event.
SPATEX 2015 opening times for the first two days of the exhibition at the Ricoh Arena will be 9:30am on Sunday, February 1 and Monday, February 2. Both days are then scheduled to officially finish at 5pm. In keeping with tradition, there is a shorter day on the third and final day on Tuesday, February 3, which will run from 9:30am to 4pm.