Spearheading SPATEX 2024 promotion
SPATEX organisers are spearheading a promotional campaign for the 2024 edition with a vibrant new revamped website and a pre-summer early booking deal for exhibitors to gain savings before the deadline.
The enhanced spatex.co.uk site has been proclaimed as 'one of our best to date' by organisers who are also promoting a generous 'Early Buy Rate' for SPATEX 2024 exhibitor stands that is being made available until the deadline at the end of this month, on May 31, 2023, ahead of the 27th outing that takes place from February 6 to February 8 at the Coventry Building Society Arena.
More than 1,400 visitors from 23 countries descended on SPATEX 2023 and packed over a hundred stands in the Coventry Building Society Arena, showcasing the latest innovations from the world's leading suppliers and manufacturers, including the latest energy-efficiency technology from air source heat pump products.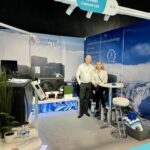 Aqua Warehouse Group, Cleanheat Leisure Ltd, pictured, 1 Stop Spas, RotoSpa, Spa Solutions, and Sunbeach Spas were among SPATEX exhibitors promoting products that have been bestowed with 2023 WhatSpa? Air Source Heat Pump Best Buy Award-winning status in the latest edition of WhatSpa? magazine.
Cleanheat Leisure Ltd is the main UK distributor for Zealux Inverboost Heat Pumps, including the 2023 WhatSpa? Air Source Heat Pump Best Buy Award–winning Zealux 9.5kW PBS, and with his vast experience of the market Cleantheat Leisure Director Gregg Titmuss utilised the SPATEX platform to highlight the pitfalls of consumers purchasing a heat pump without conducting sufficient research and not gaining professional support from a respected supplier.
"When it comes to heat pumps, my advice to consumers would be to ensure that they do their research and only purchase a top quality heat pump from a respected supplier," explained Gregg
"As a dedicated heat pump supplier we work with the wet leisure sector to provide the right solution in both the product and the backup service."
Over a third of visitors also sampled the free ISPE Workshop and parallel seminar programme, where energy-efficiency and sustainability, along with the latest health and safety guidance, were hot topics.
SPATEX Organiser Michele Bridle and her team have launched the 'Early Buy Rate' to gain a wave of pre-summer bookings after the resounding success of this year's outing that produced exhibitor praise in print and from exhibitor and visitor video testimonials filmed by Taya Media Ltd that are available to view on the SPATEX website at:
www.spatex.co.uk/2023-testimonials-bee9
1 Stop Spas Managing Director Chris Brady, who was interviewed for the Taya Media Ltd video testimonials, and his exhibition team promoted a wide range of products during SPATEX 2023, including a new range of saunas, along with newly-crowned2023 WhatSpa? Air Source Heat Pump Best Buy Award-winning Poolex Spawer IceSpa 7kW heat pump technology
"If you want to do anything in the industry, you need to be at SPATEX," declared Chris.
SCP celebrated its 25th anniversary at SPATEX 2023 and Ian Pratt was impressed by the fact that it was an 'incredibly dynamic event' that replicated the Piscine Global Europe exhibition.
"The attendance and the atmosphere were identical to what you'd find at the Piscine Global Europe exhibition in Lyon," declared Ian Pratt.
SpaFlow MD Richard Gowland has been raising awareness of the innovative and bespoke 2023 BISHTA Gold Award-winning services that SpaFlow provides to customers during successive SPATEX appearances and vowed: "We will definitely be back next year!"
Nils Rouwendal from Carropools is also among the growing list of exhibitors who have booked early for SPATEX 2024 after a successful debut this year.
"We were impressed by the high quality of the stands and products from co-exhibitors," reported Nils; "We've decided to return next year."
To book a stand for SPATEX 2024 telephone directly on :+44 (0) 1264 358558 or via email contact helen@spatex.co.uk or michele@spatex.co.uk