Strong wave of hot tub exhibitors
SPATEX organisers have announced a strong wave of hot tub exhibitor bookings as the six month countdown begins for the 2019 edition of the wet leisure showcase at the Ricoh Arena in Coventry.
The next outing will be a special one for SPATEX Organiser Michele Bridle; who will have clocked up 20 years of working for the industry's show when the doors to the Ericsson Exhibition Hall open for the trade audience in the New Year, from January 29 to 31.
Michele and her team have been boosted by advanced exhibitor bookings ahead of the event, which will ensure that the 'sea of spas,' that was such a feature of SPATEX 2018, is set to be repeated as specialist hot tub companies have been quick to snap up exhibition space for the 2019 edition with the result being that two thirds of space has already been sold.
Inundated with an unprecedented number of requests for larger stands, Michele has utilised her experience to ingeniously restructured the floorplan to free up more space to ensure that companies such as American Whirlpool and Vita Spa distributor Aqua Warehouse Group, Caldera Spas and Fantasy Spas distributor Certikin, Spa Crest Europe, Superior Spas, Riptide Pools, Villeroy and Boch and Wellis, return to the Ricoh Arena even bigger and bolder in 2019.
During this year's SPATEX one of the star attractions was the official launch to the British market of the new American Whirlpool 'superbrand' by Aqua Warehouse Group.
After the event Aqua Warehouse Group chief Richard Hart reported that the quality of attendance to his stand throughout the three days of the exhibition was outstanding and that he had never worked so hard on a stand in all his life.
"We were so busy I made a note, we need more staff for next year!" divulged Richard.
So far, 26 hot tub and hot tub product companies, including many of the leading names in the British market, have already signed up and grabbed prime spots along with some of the biggest names representing the pool and wet leisure industry.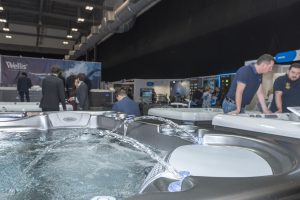 European heavyweight Wellis had a large stand at the 2018 edition, pictured, and the flourishing manufacturer has utilised its presence at consecutive appearances of SPATEX to boost its status in the UK market and will once again be seeking to entice leading retailers to its network of dealers during the next outing.
They will be joined by a number of exhibitors making their debut at SPATEX 2019; including Mansfield Woodhouse-based Sunbeach Spas and Leicestershire-based Princess Spas.
"It's very gratifying to see how, each the year, that SPATEX is attracting an increasing number of spa companies," enthused Michele Bridle.
"The 2019 edition also sees a lot of new blood, with companies such as, Hydro-Flux Aqua Products, Princess Spas Ltd, Recotherm Ltd, Rockford, Spa Solutions and Sunbeach Spas all making their debut.
"Exhibitors aside, the team are also working hard to match, and hopefully surpass, last year's show where we recorded a fantastic 8.5 per cent increase in visitor numbers."
Also helping to spearhead the start of the new campaign and the six-month countdown is a brand new SPATEX website at spatex.co.uk, which features new graphics, up-to-the minute information on exhibitors, and essential information about the show for both exhibitors and visitors.
As speakers are confirmed, information on seminar topics by the respective speakers will be updated as it becomes available. One thing is for certain, the clock is now ticking for those companies who are considering booking a stand to be part of the 2019 exhibition.
For stand bookings for SPATEX 2019, running at the Ricoh Arena from January 29 to 31, contact the SPATEX team via email: michele@spatex.co.uk or helen@spatex.co.uk or directly by telephone on: +44 (0) 1264 358558.