Superior options at SPATEX
Booming hot tub and swim spa distributor Superior Spas has teamed up with Dynasty Spas to provide additional products for the UK market that will be promoted to the trade audience at SPATEX 2020.
Chesterfield-based Superior Spas will be following up appearances at European exhibitions Piscine Global and Aquanale, and the recent Sykes Cottages Open Day in Chester to promote Superior Spas Holiday Let hot tub designs to the holiday accommodation business audience, to highlight the nine new hot tub options in the Chicago range, Dallas range, and Phoenix range by USA manufacturer Dynasty Spas during a consecutive appearance at SPATEX, running from January 28 to January 30 at the Ricoh Arena in Coventry.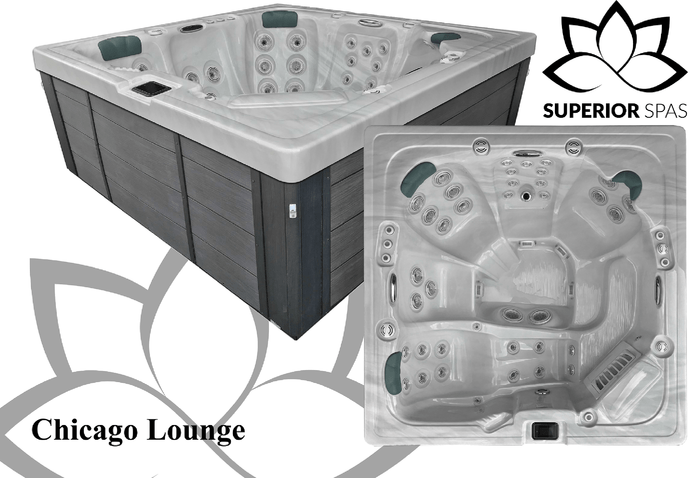 The additional options from Dynasty Spas is another feather in the cap for Superior Spas, which has enjoyed remarkable growth since being first launched in 2011. In less than a decade Managing Director Rob Carlin and his team have created remarkable success through a thriving hot tub and swim spa dealer network in the domestic market with WhatSpa? Best Buy Award, WhatSpa? Holiday Park Best Buy Award, and WhatSwimSpa? Best Buy Award-winning models, while rapidly becoming a leading presence at major wet leisure exhibitions.
Sustained growth as a distributor, with its extensive range to over 100 specialist retailing companies across the UK and Europe; including WhatSpa? Approved Bridgend, Swansea and Haverfordwest-based Castle Hot Tubs, Wirral-based The Hot Tub Place, Durham-based Better Living Outdoors, Rye-based Homewood Leisure, Derby-based Miami Spas, and Peterborough-based Posh Spas; has resulted in the recent relocation and expansion at the former GKN Stokes site on Sheepbridge Lane in Chesterfield.
This has included the construction of a new state-of-the-art distribution facility, that has been designed to efficiently provide brand expansion; whilst also creating at least 30 new job vacancies to help facilitate the smooth supply of the current range of Superior Spas, Platinum Spas, and Be Well Spas models, as well as the new options by Dynasty Spas.
With the 'Green' theme of SPATEX being in focus during the January showcase, Superior Spas will be promoting its 'green energy retention system' and 'eco-friendly shells' that are bio-degradable and hazard neutral.
The ABS backed acrylic and its two-part Poly-urethane system maximises heat retention, while the Polymax insulation in all of the models helps to reflect heat back into the plumbing and shell, whilst shielding it from the outside cold.
Visitors to the Superior Spas stand at SPATEX will have the opportunity to find out more about the products and how to become a dealer for the new options by Tennessee-based Dynasty Spas that will initially incorporate nine hot tubs models of various sizes, layouts and specifications, including a Gecko in stream audio system feature with transducers, along with four additional swim spa designs.
"We believe this will give our dealers a more competitive range of hot tubs to promote from one of the industry's leading manufacturers and therefore further enhance their sales potential moving forward," said Rob Carlin.
To gain more information about joining the Superior Spas retailer network contact Gareth Ward or Graham Message on 01246 559 071.
For further information or to enquire about stand bookings for SPATEX 2020, contact the SPATEX team via email: michele@spatex.co.uk or helen@spatex.co.uk or directly by telephone on: +44 (0) 1264 358558.