Supporting enhanced procedures and growth
Golden Coast has welcomed new Operations Manager Richard Ing in his role to support and help promote enhanced procedures as part of the latest stage of growth for the wet leisure product distributor.
In his role based at the Barnstaple branch, Richard will be working across departments to review processes and support improving efficiency wherever possible. Following the merger with Pollet Pool Group, Golden Coast has revealed that although the company is not necessarily looking to make changes it is keen to make improvements where possible.
"Golden Coast already has an extremely motivated and focused team," divulged Richard. "It is a very collaborative environment, so my job will be to support business operations and add value where I can.

"My job is about challenging the status quo and identifying ways to enhance procedures. I will be overseeing activity within warehousing, logistics, distribution, procurement, engineering and customer support, and working with suppliers and couriers. "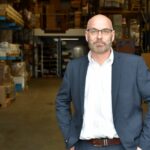 Golden Coast General Manager Adam Clark has welcomed Richard, pictured, to Team GC and highlighted his 'invaluable insights' that will help the company embark on further growth.
"We are entering a new stage of growth and are always looking for ways to enhance our operations so that we can better support our customers in the trade," said Adam.
"Richard will undoubtedly have some invaluable insights and new ideas that will help us take our business forward.