Survey illustrates good wet leisure year
Results of the 11th annual Wet Leisure Survey produced by leading independent distributor Golden Coast revealed 2021 was good or better for the majority of respondents and hot tubs achieved a bumper year of sales.
The feedback from 2021 showed that almost 80 per cent of respondents experienced 'Good' or 'Extremely Good' business conditions. It highlighted that spas and hot tubs are 'where the volume lies in wet leisure industry sales'; and also indicates that hot tubs have been 'an important draw card' for the booming holiday industry, while experiencing rising popularity in the domestic market.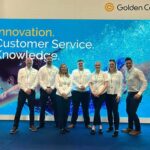 This year's survey; published for SPATEX 2022 where Golden Coast was exhibiting, pictured, almost a year after the family-run company launched a new tubhub accessories range in spring 2021; illustrates that all of the reported spa and hot tub sales were either in the middle or top-end of the market.
The survey also concludes that cheap, inflatable spas are simply not appealing to people who are looking for something to soften the blow of not taking an overseas holiday. They are looking for the best price, but they are looking for the best products as well.
Created by Golden Coast to help the industry by gauging thoughts, feedback and statistics across the entire spectrum of stakeholders, the Wet Leisure Survey is completed anonymously by respondents working all around the UK, and is supported by many organisations including BSPF, SPATA, BISHTA and ISPE, as well as industry media.
Overall, 43 per cent of respondents described 2021 as 'Extremely Good', which is the biggest proportion to do that since the survey commenced, and 36 per cent described the past year as being 'Good'; while only 2.5 per cent reported that it was 'Extremely Difficult'. The COVID-19 pandemic was the biggest influence on business for 88 per cent of respondents. In the 2020 survey BREXIT scored 5.5 per cent in this section, but this rime it was 33 per cent.
While customers were focussed on wellness and had extra money, due to pandemic lockdowns and foreign travel bans, the survey feedback revealed that there were difficulties in meeting the higher customer demand due to manufacturing disruption, BREXIT, and supply chain difficulties.
"Each year these survey reports look back over the year that has been, and what a year it has been," said Golden Coast Managing Director Jamie Adams.
"It almost feels as if our sense of time has been distorted. COVID and its enormous impact on our business lives, BREXIT, and the global supply chain issues, all feel as if they have contributed to a year that is much more complicated and challenging than almost any year we can remember.
"The importance of home and wellbeing has been raised. It was already on an increase and was accelerated in 2021 and will probably stay that way, which is good for our industry.
"If there are any dark clouds on the horizon, they mostly come from concern about further repercussions from BREXIT, supply chain issues, and escalating manufacturing costs; but what we have seen this year is a robust and agile industry, a wet leisure industry that can make the most of the opportunities as they present themselves."
The full 2021 Wet Leisure Survey results are available at www.wetleisure.com