Switched on to hot gadgets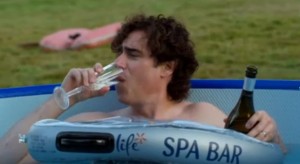 Spa Crest and Villeroy and Boch dealership Waterstream Ltd, the West Sussex-based group of leisure companies, helped production staff at Channel 4's Gadget Man to tune into the latest hot tub gadgets.
Staff at the Handcross Garden Centre company came to the rescue when producers of the TV show, presented by the IT Crowd's Richard Ayoade, a self-confessed gadget junky, sent out a call for gadgets related to outdoor activities for the first episode of the cult programme's second series that was aired in September.
Waterstream Sales Executive Sheila Simpson was immediately switched on to the appeal and knew a Floating Spa Bar and Floating Underwater Light Show would prove to be ideal for the Channel 4 series, which sees Richard immerse himself in the world of gadgetry, trying out all the products and prototypes he can lay his hands on, that people can buy today and that will change the way they live their lives tomorrow.
"We received a call from the Gadget Man production team who said they were doing a programme themed around The Great Outdoors and asked if they could order some spa related gadgets," revealed Sheila.
"Of course, we were happy to oblige and we supplied them with a Floating Underwater Light Show and Floating Spa Bar, which was used by comic actor Stephen Mangan in an inflatable portable spa."
The episode can be watched on demand on Channel 4's 4OD service by going to the link: http://bit.ly/136R1zC