For Golden Coast, the largest independent distributor of products to Britain's wet leisure trade, there is always a way of taking the spa experience further.
Not content with supplying a range of beautifully crafted hand-tiled spas, the company is full of ideas for add-on equipment that will upgrade planned spa builds or enhance existing facilities. Good examples include counter current units, to make the most of the relatively small space in residential set-ups, and custom control panels for optimum management of multi-featured commercial spas.
Counter current systems
Within the BADU range of counter current systems, Golden Coast can identify an ideal model for each customer's circumstances. The basic principle is that by generating pulsating underwater jet streams the units allow users to swim on the spot, for a vigorous workout without the need for a competition-size pool, but the same systems also provide conditions for relaxation. BADU units can be set to create a variety of massage options that will ease away aches, pains and stress. These are accompanied in some cases by a choice of lighting to match the required mood.
Models include the award-winning BADUJet Vogue, stylishly finished in stainless steel, and the BADUJet Vogue Deluxe, which also oozes class with its sleek stainless steel air regulator, control buttons and adjustable nozzle. Each of these has a choice of swimming and massage settings.
With the powerful BADUJet Wave, water flow can be customised for vigorous swimming, gentle waves, underwater massage or – thanks to its intelligent air intake – sensations ranging from a champagne tingle to a bubble bath. Built-in LED lights complete the spa's ambience, transforming it with clean white or multi-coloured effects.
The highly efficient BADUJet Primavera, with its twin jets, is again adjustable to meet individual needs. It comes with bright white LEDs as standard or multi-coloured as an option. The specification includes ergonomic handrails for easy grip during massages and aqua aerobics. Along with the unit's cover, these are finished in strainless steel for a classic look. In the
BADUJet Classic there is a single nozzle, but its very powerful jet pump produces a strong flow rate and delivers anything from a deep massage to a tingling bubble bath.
For retrofits there are three BADUJet over-the-wall series, Perla, Riva and Stella, with different maximum flow rates. These compact, streamlined units have adjustable controls for flow, direction, power and bubbling intensity, along with built-in moonlight white or multi-coloured LED lighting.
Custom control panels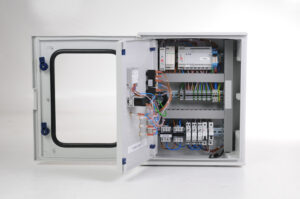 Golden Coast sees its bespoke spa control panels not as luxury items but as a key to many years of versatile control and trouble-free enjoyment. Built individually to meet each user's specific needs and wishes, with no unnecessary functions, they make excellent economic and practical sense.
An efficient specification process ensures that the right tailored solution can be created first time by Golden Coast's experienced specialists, while the customer's own electrician's time is freed up for other work. The panel can be adapted easily at any time, if facilities are upgraded, with no need for a replacement.
Customers have been particularly impressed by the touchscreen technology and the colour-changeable lighting of the buttons. This can be used, for example, to show whether a facility is currently available (green light) or not (red light). The panel's many possible functions, which can be accessed remotely, include chemical level readings, pump run times, booster pump operation, filter duty-share programming and status reports, room and water heating and record-keeping, DMX light shows, other lighting, and control of water cannons, water curtains and similar recreational features.
Golden Coast's Managing Director Jamie Adams says: "The possibilities for enhancing people's spa experience are almost limitless. Whether the situation is residential or commercial, and whether the spa already exists or is at the planning stage, we can find a way to make it even more of a pleasure."
For further information on these or any other Golden Coast products you can contact a member of the sales team on 01271 378100, email swimmer@goldenc.com or visit the web shop at GCTrade.co.uk.