Tardis changing room for Dr Who hot tub fan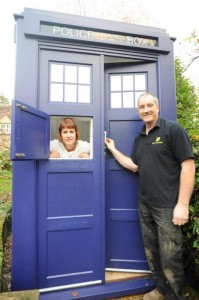 As millions tuned in to the special 50th anniversary of Doctor Who, one Stonehouse couple were getting into a lather themselves with their own Tardis in their back garden. Carpenter Jon Kent has spent over a year designing and building the famous police box known for its ability to defy the rules of space and time.
This model however, at eight feet high and five feet square, makes the ideal changing room before they regenerate in their hot tub.
"We have a hot tub in the garden so when I was thinking about building a changing facility outside someone suggested the idea of a Tardis," said Jon, who lives
in Stonehouse with his girlfriend Karen Clow and their two Dalmatians Molly and Daisy.
"The box has been designed from scratch and incorporates parts of the different Tardis' used in the television series over the past 50 years.
"It is also completely waterproof, so I am hoping to have created something which will still be there in another 50 years time."