Targeting extra stream of customers
Darlly Europe has launched Sanistream PLUS to target a larger customer base by providing enhanced user-friendly capability for hot tub owners to maintain and sanitise their hot tubs.
Having enjoyed huge success in the hot tub holiday market with the previous Sanistream range of inline sanitisation filters, Darlly Europe is now seeking to expand into the broader consumer market. With this in mind, Sanistream PLUS has been proclaimed as a 'game changer' as part of the SPATEX 2023 trade launch promotion that proclaims it as a safer, easier-to-use, and more efficient cartridge filter with a revamped design.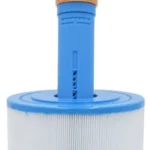 This eliminates the requirement for floating dispensers, with the benefit of being more reliable and accurate. The design ensures it is easy to adjust, without the requirement to have to remove the filter.
The success of the original Sanistream design, with unprecendented sales heading towards the quarter-of-a-million mark, has been rewarded with Darlly Europe becoming the inaugural winner of The Peter Newbery Award for UK Innovation as part of the expanded BISHTA Awards ceremony during the 2023 British Pool & Hot Tub Awards. following the first day of SPATEX 2023 at the Coventry Building Society Arena.
"Due to unprecedented sales in Sanistream and as we approach 250,000 DL filters now sold, this means we have been able to reduce our production costs for the Pod, due to economies of scale," said Darlly Europe's Gil Gingell, who founded Filters4Spas in 2009 with Phil Mosely.
"Originally designed for holiday parks we have been amazed at the speed in which it has now been taken up by consumers. It's safer, effortless to dispense and so much easier in controlling just how much chlorine/bromine you have in the water."