Tax rate boost and benefits blitz
Chancellor George Osborne will be abolishing the 55 per cent tax rate applied to pension pots left by savers to their children and has announced plans for freezing benefits to millions of families if the Tories win the next election.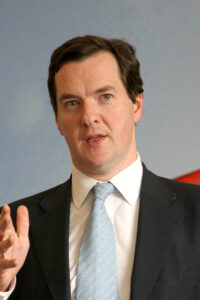 The dramatic pension's tax move, highlighted during the Conservative Party conference in Birmingham, follows the Chancellor's scrapping of the rules that have forced Britons to use their pension savings to purchase an annuity, resulting in it being easier for pension fund holders to withdraw their cash directly.
Spouses and financially dependent children under 23-years-old are currently exempt from the tax, which will cost £150million a year once it is scrapped as hundreds of thousands of beneficiaries should gain the benefits. Under the new system, from April 2015, if the person who dies is 75 or over their beneficiaries only have to pay their usual income tax rate when they withdraw the funds, as is the case with any pension.
"This makes pensions more attractive than ever before," said pension adviser to the Government Dr Ros Altmann; "Retirees will have a real incentive to keep money in their pension funds."
The Chancellor and Prime Minister David Cameron have also made a joint statement this week declaring that the annual household benefits cap would be reduced by £3,000 to £23,000 from the previous £26,000.
Mr Osborne, while warning that Britain still had a dangerously high level of debt despite the UK being one of the fastest growing economies in the G7, placed welfare reforms in the full spotlight of the conference and pre-election arena as he declared that billions of pounds would need to be cut from the benefits budget as part of continued austerity measures to balance the books; instead of further excessive taxation.
"The idea of taxing your way out of the deficit no longer exists," he declared; "If it ever did. The problem of a modern country like Britain is not that it taxes too little, it is that it spends too much."
Working policies
Earlier in the month, at the same time it was reported that inflation had dropped from 1.6 per cent to 1.5 per cent, the Prime Minister seized on the latest employment figures as proof that his Government's policies had been working towards the largest annual fall in unemployment since 1988.
The Office for National Statistics (ONS) revealed a fall of 468,000 on the jobless figures and as a result there was 2.02million people unemployed between April and June, while 30.61million people were in work. Also, the number of people working part-time who want to be in full-time employment is down to 1.3million people and this is the lowest level since 2011.
"We had a long term economic plan, we stuck to that plan and you can see that plan is working," said Mr Cameron.
TUC general secretary Frances O'Grady said: "More people are working but growth based on more low-paid jobs isn't working for Britain. We need jobs that ensure everyone gets a fair share in the growing economy through real increases to their wages."
Labour Shadow Employment Minister Stephen Timms added: "Under this Government wages after inflation have already fallen by over £1,600 a year since 2010 and by next year working people will have seen the biggest fall in wages of any Parliament since 1874."