Marketing expert Dorian Davies of Doric Marketing investigates the latest technological trends that are set to revolutionise the way that shoppers behave in 2014 and beyond
Savvy retailers are aware of how quickly technology is marching on and affecting the way that shoppers behave, but keeping up with the pace of change with their marketing campaigns is an altogether different matter.
We all instinctively know that ever-increasing numbers of consumers are going online to help their shopping, whether it's to speed up a transaction, enhance logistical convenience, research and secure best value or seek reassurance that they are making the right choice.
Shocking stats
In fact in 2013, 36 million adults (73 per cent) in Great Britain accessed the Internet every day. What's more in 2013, 72 per cent of all adults bought goods or services online, up from 53 per cent in 2008.
Britain is the biggest online shopping nation in the developed world, with over two-thirds of adults using the Internet to buy goods or services. Some 13.5 per cent of all purchases were done over the Internet in 2010, and this is projected to rise to 23 per cent, reaching a total value of £221billion by 2016.
More than two-thirds of tablet owners (69 per cent) make a purchase on their tablet device every month, according to a study by InMobi and Mobext. Around one in ten of these consumers were also happy to use their tablet for 'big ticket' purchases, and over 20 per cent of tablet users claim to shop less in bricks and mortar stores since purchasing their device. The report found that 3.9m people in the UK own one, equating to around 13 per cent of households.
Mobile revolution
Access to the Internet using a mobile phone more than doubled between 2010 and 2013, from 24 per cent to 53 per cent. According to comScore, in October 2012, 44 per cent of UK smartphone owners performed at least one 'showrooming' shopping activity using their device while in a high street shop. According to the latest Google Shopper Marketing Council figures, 84 per cent of smart phone shoppers use their phones while in a physical store to research product information or conduct a price comparison.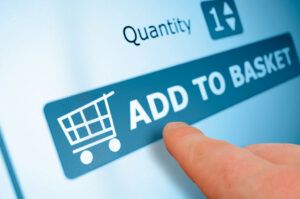 So, with the pace of technological change relentlessly ramping up almost on a daily basis, staying one step ahead of the technology game is crucial in the race for retail supremacy. However, we all know it's not easy, and it's getting more challenging. With consumers becoming hungrier for information and having more tech tools at their disposal almost daily to wrong-step potential suppliers and their sales and marketing strategies.
Despite Britons' love of shopping online, the OECD recently found that UK businesses have been much slower off the mark when it comes to embracing the Internet. The UK has the fifth lowest number of businesses that use the Internet in the developed world; it is little wonder that the early adopters are cleaning up and the also-rans are struggling more and more!
Personalised habits
Anybody that is familiar with the online shopping experience delivered by the likes of Amazon with their 'Mystic Meg-like' ability to pre-empt the stuff that you want, acknowledge that the 'customers who bought this item also bought (insert product name here)' mentality really works.
It works on two levels; firstly the suggestions are backed up by real 'big data' shopping habits of their growing army of customers, so they are accurate and helpful; secondly it contains the power of third party testimonial. Rather than saying, "we suggest you buy this as well," they use a tangibly different sentiment to the tune of "other like-minded people that you trust more than us bought this as well."This along with their 'product reviews' feature piggy-backs on the growing trend of social word-of-mouth testimonial. It is powerful stuff and really drives sales and profitability via up-selling and cross- selling.
Amazon is ticking all the boxes in modern retailing, providing range (research/ convenience), speed of shopping experience and delivery (convenience/best value) and combining this with social testimonial and helpful product suggestion (reassurance). Before embarking on your updated marketing strategy for 2014, make sure that you are ticking these boxes in your own way too.
Cautionary tale
Whilst this kind of 'personalised' sales and marketing is being pioneered by the likes of Amazon, it has raised the bar for every other retailer. Customers love this approach and will become less tolerant of retailers that 'interrupt' consumers with irrelevant communications – either due to untargeted executions, or because they don't properly understand shopper needs.
Many companies risk collapse not for failing to keep up with their competitors, but because they've failed to embrace the future and respond to modern buyer's needs. Big brand names such as Blockbusters, HMV and Clinton Cards have all fallen victim to the administrator's clutches in 2013, whilst relative newcomers such as Netflix, iTunes and Moonpig have all stolen a march in their respective marketplaces.
When viewed through the lenses of increasing shopper's expectations and needs for convenience, research, best value, and reassurance, it is obvious that these high profile retail casualties have not adequately embraced the latest marketing technology and have suffered as a result. Incidentally, it can be argued that they all had perfectly good products, so a quality product offering is no longer a guarantee of success!
These high profile success and cataclysmic failure trends are not limited to FMCG (fast moving consumer goods) products either. Contrary to what the doom and gloom merchants would have you believe, for every news story of the collapse of a UK retailer or of the demise of the high street that they see in the media, there are just as many untold success stories of retailers that are growing successful businesses despite the more recent challenging trading environment.
Good old days
Life in the old days of business (and marketing) was easy; choices of media were limited and the seller held all the cards. Consumer knowhow was limited and the public at large relied on word of mouth and the expertise of staff in shops and the occasional specialist publication for information to inform their buying choices.
In most markets, as long as you covered local magazines, newspapers and Yellow Pages with halfway decent adverts, and you had a retail site that people could find, staffed by moderately well-trained staff, a degree of success would follow, all things being equal.
Compare that to the scenario today; people have instant access to an unlimited supply of information, a whole variety of ways to shop online, a vast network of 'friends' and 'followers' to glean advice and recommendations from, and they are bombarded from every angle with thousands of marketing messages via an endless list of tech devices including desktops, laptops, tablets, smartphones, gaming consoles and in the not too distant future, wearable technology equipped with augmented reality content…scary eh?
Web success
Putting e-commerce opportunities aside for a moment (I'll come back to that later), your website is at the very least your 'virtual shop window' to encourage people inside your business. Just having a pretty website is not going to be the answer to all your prayers, unless you place it on the 'virtual high street' and make it visible in the places that people are searching for your types of products or services.
Life is not quite as simple as getting a spotty teenager to knock up a website in his spare time from college and hoping for the best.
Your website personifies your business, and if you are attempting to part your web visitors with thousands of pounds of their hard-earned Champagne tokens, you'd better ensure that your website and company image is on par with those of other designer outlets and brands that they covet!
At the very least, your web presence needs to look great and work well on every browser platform, and most importantly should be optimised to look good and work properly on mobile devices and tablets, since the latest trend in user habits shows that mobile technology is firmly here to stay. Take a long hard look at your website (on a pc, laptop, tablet and smartphone!). Can you honestly say it is fit for purpose? How would you feel coming straight from the Amazon website to yours?
Virtual 'high street'
Having a great website is the first step, putting it on the 'virtual high street' where people are looking for the products and services that
you offer is the next challenge, otherwise it is the equivalent of building a beautifully merchandised and fully stocked department store in the middle of the Gobi Desert!
Search engine optimisation, content creation, social media integration, pay-per-click marketing, traffic analytics, video creation, split testing, data capture, customer relationship management software integration, lead nurturing and segmented online and offline marketing campaigns (etc, etc) are all vital ingredients on the modern marketing menu.
If this all sounds like gobbledegook to you, I'm not surprised, it takes a multitude of staff here at Doric Marketing to stay on top of this stuff and keep up with the latest developments, and we are specialists in the field; what hope have small business owners got that are juggling everything from sales to service to accounts?
If you are not getting as many customers and ongoing sales as you need or deserve, enlist the help of a professional to guide you through the modern mire that marketing your business has become. Sticking your head in the sand and hoping it goes away won't work by the way; ask the ex-staff at Woolworths, Comet, JJB Sports, Focus DIY, Habitat or Jessops (to name but a few) if you're not sure!
E-commerce growth
We know from solid statistics that the UK has a love affair with online shopping, topping the global charts in per capita spend online. So why would you not want to participate when your clients are looking for more convenient ways to conduct their shopping?
I hear daily murmurings from people involved in the pool and spa industry that they are losing business to the Internet (although they choose not to participate online). This reminds me of the brief period when our beloved Marks & Spencer decided that they would not allow payment by credit cards; instead you had to use a Marks & Spencer store card or nothing else would do. If they had a quid for every time someone ditched their gear at the checkout and marched angrily out of the shop vowing never to return, their shareholders would be a lot happier today!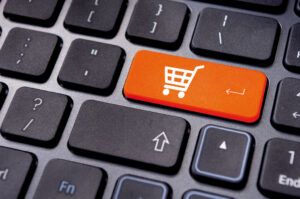 It is now possible to have your very own web store built into your website, that automatically integrates with Amazon, eBay, Facebook and just about any other place that millions of people are virtually milling around. Everything is coordinated centrally in your own admin area, rather than dealing with complicated third party websites and payments for goods purchased are centralised to an account of your choice.
Close your eyes and imagine a scenario where you have a kick-ass website, that works great on every browser and device type from desktop to the smallest of smartphones. It is visible where people are searching for your products, it has the products and educational content that people want and they are happy to interact with you because they see you as credible and an expert in your field. It automatically feeds lead data into your CRM (customer relationship management) system and then automatically sends personalised emails and text messages to your prospects to nurture them to sales readiness. Once they have bought from you, you can then communicate with them on a regular basis and drive sales on your online store, as well as picking up new customers on the large dominant platforms like Amazon, eBay and Facebook (and maybe Twitter sometime soon).
Now open your eyes and have a look at your current website and marketing infrastructure. If the two scenarios don't match, take action today before it's too late!
Dorian's top ten tech tips:
Ensure your website is built to look and perform well on tablets and smartphones as well as pc's and laptops
Look at your business through the lense of your customer; how does it market and deliver speed, convenience, best value and reassurance for your clients and prospects?
Put your website on the virtual 'high street' by ensuring it is present and visible in the places where people are looking or spending their online time
Find as many ways as possible to reach your prospects and clients with valuable and useful content and offers; utilise email, social media, SMS text messaging, direct mail and telephone for a multichannel cocktail of personalised marketing
Group your leads by sex, age, interests, hobbies, product interests and anything else that you can glean information on in your interactions with them; use this information to deliver personalised content that will produce your very own 'Amazon effect'
Utilise a customer relationship management system as a 'home' for all of your client side knowledge and information. This will ensure that you have all of the information about each and every prospect or client at your fingertips at the touch of a button
Use a chatty, informal tone in emails and text messages to build the relationship and give your prospects a feel for who you are and what you stand for; basically be authentic
Don't use social media like Facebook and Twitter to batter your friends and followers with sales banter; you wouldn't go to a dinner or cocktail party and set up a car boot sale table in the corner of the room so don't do the social media equivalent!
Always ensure that you have ongoing permission to contact your prospects; if your content is valuable they won't want to opt out!
Above all remember that marketing is ultimately about turning prospects into customers and customers into advocates that buy again and again (and sing your praises from the rooftops to all their family, friends and followers so they can do the same!)
If you need more information about the latest marketing techniques and secrets request a free copy of Dorian's Modern Money Marketing Masterclass by visiting www.doricmarketing.co.uk or email dorian@doricmarketing.co.uk