Thermals Spas debut at SPATEX Virtual
Thermals Spas by Superior Wellness has made its digital exhibition debut today at SPATEX Virtual with 'out of this World' designs in the 'Space' range to complement the additional 'Intro' and 'Gemstone' ranges.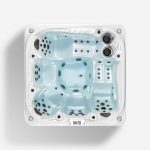 Superior Wellness, which has officially launched a new website today to coincide with the start of SPATEX Virtual, is utilising the online exhibition platform to provide 'visitors' with information on the new Thermals Spas 'Intro' range, with the affordable entry-level six-seater Hydro and five-seater Ocean; the 'Gemstone' range with the seven-seater Emerald, five-seater Ruby, six-seater Sapphire, four-seater Jadeite, and six-seater Tourmaline; and the 'Space' range with the diminutive three-seater lounger design of the Mercury; five-seater Neptune, pictured, also with twin lounger seater; and six-seater Venus, which has a single lounger seat incorporated within its design.
With a promotion pledge of being able to deliver 'fantastic hydrotherapy', the Thermals Spas hot tubs have been manufactured with corrosion-free steel frames, Aristech acrylic, Gecko technology, and R-10 full insulation technology to help reduce running costs. Designs have been produced to stringent ISO standards and models are being manufactured with a mixture of single and dual pumps.
During SPATEX Virtual the Superior Wellness booth is also promoting the new 'Leisure' capability of the Thermals Spas swim spas designs as part of the launch of a trio of models in the new Leisure range of swim spas, with options being the Classico, which has sizes of 4500 x 2280 x 1360mm and 4500 x 2280 x 1500mm; the dual-chamber Duce, which has sizes of 5980 x 2280 x 1480mm and 5980 x 2280 x 1630; and the Lusso, which comes in at 5300 x 2300 x 1630mm.
Thermals Spa PRO Swim Spas with Treadmill, and Pro Swim Spas with Tether, which incorporate a state-of-the-art propulsion system, are also available for professional aquatic and underwater workouts with the selection of configuration options for the Apollo and Athena models. To ensure a more realistic swimming sensation, Superior Wellness has developed a dedicated low pressure backwater system for these designs.
Also on the SPATEX Virtual Superior Wellness booth is promotion of the launch of the wet leisure powerhouse's new InSpire spa accessories range of products. These include new InSpire Filters; InSpire Lifters, including the Classic, Hydraulic, and Under Mount design options; InSpire Steps, including the Grip Step, Swim Spa Step 3-Tier, and Swim Spa Step 4-Tier; and there also is a new InSpire Drinks Caddy.
Superior Wellness, which is providing the top prize of £250 for the leading virtual visitor during the three days of the online SPATEX Virtual exhibition, is also showcasing its established best-selling Platinum Spas range, which includes the newly-launched Barcelona hot tub design and enhancements to the 'Premium' range models such as upgraded corner panels with full LED lighting strip, and the 'Deluxe' range, including upgraded jets, diverters and side panels; and the Be Well Spas hot tuboptions.
In addition to gaining details of the products from the Superior Wellness website or the virtual booth at SPATEX Virtual for 30 days after the three-day exhibition, you can obtain further information on becoming a dealer for the various brands by contacting Superior Wellness Business Development Manager Graham Message at: graham@superiorspas.co,uk
As part of the rebranding initiative from Superior Spas to Superior Wellness by the UK's leading hot tub and swim spa distributor, a product-packed new website has been launched today on the first day of SPATEX Virtual.
All of the services and products; including the additional rotationally moulded California Spas, with the Malibu, Venice, and Santa Monica; plus the Superior Wellness group's news and blogs, are now being promoted on the www.superiospas.co.uk website that also highlights new arrivals to the company, which has been boosted with the new appointment of Louis Romegoux as Superior Spas International Sales Manager to support and grow the partner network in Germany, Switzerland and Austria. Previously Louis was a Sales Manager at Ortner Medizintechnik in Austria, specialising in supplying medical ultrasound equipment to hospitals across Europe.
"The Superior Wellness website showcases who we are and our vision for the future," explained Superior Wellness Head of Marketing Sarah Elphick, who has also reported that the Platinum Spas website is going to be revamped with enhanced marketing material.
"With a new Superior Wellness blog, the latest news and a careers hub, the website provides more information than before. Over the coming months we will be continuing to add more content, including videos, imagery and more on wellness."
Registration for SPATEX Virtual is free and takes seconds to complete at: www,spatexvirtual.vfairs.com/en/registration that then provides access to the Superior Wellness virtual booth and those of all the additional SPATEX Virtual exhibitors.
You can also book a 'virtual seat' for the 2021 British Pool & Hot Tub Awards taking place online today, February 2, via the SPATEX Virtual platform if you register before 5pm today.