TidalFit trio boosting swim spa range
Artesian Spas are rolling out three new models, including the brand's first hydraulic propeller design, in the award-winning TidalFit exercise pools range to meet the growing demand from retailers catering for the flourishing swim spa market.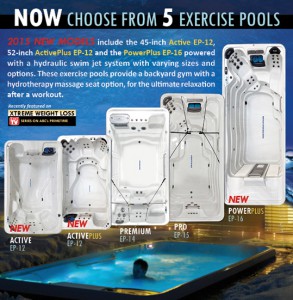 The Active EP-12 Above Ground model; ActivePlus EP-12; and PowerPlus EP-16; will join the 2014 WhatSwimSpa? Best Buy Award-winning TidalFit EP-14 model, which has a Semi In-ground option, and the Pro EP-15 being rolled out this year from USA-based May Manufacturing.
Coming in at 366 x 231 x 114cm, the Active EP-12 Above Ground model has a water capacity of 4,921L. It has a dry weight of 794kg and a filled weight of 5,711KG. The ActivePlus EP-12 has the option of an Above Ground or Semi In-Ground design and comes in at 366 x 231 x 132cm. This has a larger water capacity of 5,678L, a dry weight of 907KG and filled weight of 6,582 KG.
The imposing PowerPlus EP-16 comes in at 487 x 231 x 152cm and has a water capacity of 8,328L, a dry weight of 1,588KG and filled weight of 9,910KG. It is the first hydraulic propeller TidalFitmodel to be produced by May Manufacturing and has been designed to incorporate a Variable Current Swim System that provides nine times more flow rate than traditional swim spas.
A new 2015 bba Bluetooth Audio System is fully integrated into the topside control panel of all the three models for user-friendly use, while WiFi App Control is available via iPhone or Android devices.
Aquatic Training System elements of the new TidalFit models include Rowing Bars, Strength Training Resistance Cords, Clips and Handles; plus the Aqua Treadmill Stationary Resistant Swim Tether.
Thanks to the innovative DirectFlow Switchless Motor and Direct Plumbing System technology, combined with the Variable Flow Control (VFC), users can enjoy individually controlled hydrotherapy massage following a strenuous workout session.
Water purification options include the Crystal ProPure System and Crystal AOP ProPure Advanced Oxidation System. Choice of colours for the maintenance-free cabinets include Black, Taupe, Java, Grey, Antique and Red.
There is a 'Lifetime Structure Warranty, a seven-year Surface Warranty, five-year Electrical Warranty, five-year Parts and Plumbing Warranty, and two-year cover on the cabinet.
For further details about how to become a TidalFit swim spa or Artesian Spas hot tub range dealer, visit the Artesian Spas Stand 320 at the UK Pool & Spa Expo.
Opening hours for the first two days of the UK Pool & Spa Expo, on January 22 and 23, will be between 10am to 5:30pm. On Saturday, January 24, the third and final day of the UK Pool and Spa Expo is the Consumer Day that will be staged between 10am and 3pm for exhibitors in Hall 10 to meet with members of the public as well as trade representatives. For further details about the exhibition visit www.ukpoolspa-expo.co.uk
www.artesianspas.co.uk