Top honour for digital marketing apprentice
Superior Wellness is celebrating the achievement of Digital Marketing Apprentice Will Brooks being honoured with the 'Apprentice of the Year 2022' accolade in the Love Chesterfield Awards.
Will has gained the apprentice title following just a year with Superior Wellness, after commencing his Digital Marketing Level 3 Apprenticeship at the end of October 2021 through Baltic Apprenticeships. A key element of Will's achievement is the fact that he has become a real asset since joining the company from the contrast of a college environment at the age of 18.
He is now aiming to continue his development with the company; which recently exhibited in the USA at Aqua Live in Charlotte, ahead of exhibiting at Interbad, running from October 25 to 28 in Stuttgart; the International Pool Spa Patio Expo, being hosted from November 12 to 17 in Las Vegas; and Piscine Global, from November 15 to 18 in Lyon.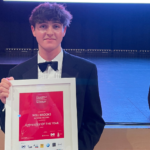 "I want to thank everyone who has helped me achieve this award as I wouldn't have been able to do so without them," said Will.
"I hope I can continue to develop and grow around my amazing team."
Head of Marketing Sarah Elphick nominated Will for the Love Chesterfield Awards and has now pledged to help him continue his progress with Superior Wellness.
"I am so proud that Will has been awarded Apprentice of the Year. He really is an asset and we are delighted to have him in the team," said Sarah after joining the celebrations with Will at the award ceremony hosted by the Winding Wheel in Chesterfield.
"We are looking forward to continuing helping him to develop and we hope he progresses his career here after he has completed the apprenticeship. Well done Will and congratulations!
"Congratulations to all of the nominees and thank you to Love Chesterfield for putting together such a wonderful event."
Sarah also revealed that due to the success of Will as an apprentice it has led to the recruitment of an additional apprentice in the marketing team and one in the development team.
"Apprenticeships are a great opportunity for people to start their career and we are huge advocates of them here at Superior Wellness," reported Sarah.