Top retailer plunging into SwimDrive promotion
Top award-winning hot tub and swim spa dealer Jane Veysey is helping to spearhead a campaign to promote a British-designed SwimDrive system that is set to revolutionise the wet leisure market with environmentally-friendly technology.
As part of its worldwide patent pending design, the new 'world first' SwimDrive technology is offering a unique opportunity for manufacturers within the hot tub and swim spa industries to capitalise on major energy-saving capability from a variable speed drive that allows precise control of water flow. As a recent addition to the SwimDrive team, Jane of All Swim Ltd will be adding her considerable sales and marketing knowledge to introduce the advanced product to the global marketplace and promote its 'Green' credentials.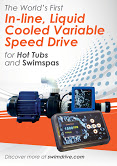 Cardiff-based Chief Technology Officer Nabeel Shirazee has been responsible for the development of the unique, liquid cooled variable speed drive from concept to reality in the UK with support from the Dovey Group and the Welsh Government. He was also instrumental in bringing Jane onboard in her new 'International Sales & Marketing' role for SwimDrive.
Due to her vast and industry award-winning experience in the wet leisure market Jane, who has been bestowed with SPATA 'Retailer of Excellence' and BISHTA 'Showroom of the Year' and 'Hot Tub Website' Gold Award accolades, was consulted and briefed about the technology before agreeing to be part of a promotional awareness campaign tour to proclaim SwimDrive as a completely new concept in variable speed drive technology, the first of its kind with inline liquid cooling and heat energy recovery.
According to Jane, Eco-friendly credentials will be at the top of the marketing agenda. SwimDrive is able to operate efficiently in hot environments, returning much of the generated heat back into the flowing water of the system and with a built in active power factor correction (APFC) feature, energy savings are dramatic.
"It is very much a 'Green' product," declared Jane, whose showroom headquarters are based at the LinkTradePark in Penarth Road, Cardiff and have been under HTR's 'Hot Profile' spotlight.
"When operating at 80 per cent speed it saves 45 per cent energy and at 50 per cent speed saves 80 per cent energy. The variable speed drive also allows precise control of water flow so hot tub and swim spa users have the potential for far more intense, tailored hydrotherapy experiences with improved massage performance.
"Manufacturers can reap significant benefits from exploiting this new SwimDrive technology. In a typical hot tub or swim spa application it can replace the 24/7 cycle pump and two speed pumps, reduce the need for plumbing and increase the service life of the pump by running at considerably lower speeds."
Jane has highlighted that the SwimDrive system is compatible with all RS485 hot tub controllers but can also be customised to manufacturer's particular requirements and is ideal for use in both new installations and retro fitting to existing hot tubs, swim spas and pool equipment.
"The SwimDrive team is understandably excited about the prospects for both the commercial and domestic marketplaces in 2017 and we have already secured interest from some major industry players," reported Jane.
After achieving prestigious awards and industry-wide recognition for her wet leisure company exploits in recent years, Jane revealed that she is now relishing the opportunity of a new challenge.
"I've been looking for a new challenge and this involvement with SwimDrive is an exciting opportunity," said Jane.
"The inventor of SwimDrive is based in Cardiff and knew about my experience in the wet leisure market. That is why he came to me and briefed me on the product and then asked me to take it forward by assisting in the process of getting it in front of hot tub, swim spa and pool manufacturers.
"We've just finished completing the SwimDrive website, which will also help promote the potential of this technology online to the wider global market audience."