Top sales after Tuff first year
1Stop Spas is ramping up promotion of the environmentally-friendly qualities of Tuff Spas after reporting surging popularity in the domestic and hot tub holiday markets.
To mark the first anniversary of being the exclusive distributor for Tuff Spas in the UK, the 1 Stop Spas exhibition team has been showcasing the brand's rugged designs and its famous Tuff Top cover to the holiday park trade ahead of an appearance as an exhibitor at SPATEX 2022.
1 Stop Spas chief Chris Brady, who also runs 1 Stop Spas Trade and SpaTech Training, has reported sales at the Sleaford-based main showroom have been flowing fast after celebrating a bumper year of supplying Tuff Spas, and is looking forward to promoting new 2022 designs for the brand.
"We're finding that businesses are impressed with the environmentally-friendly benefits of the Tuff Spas manufacturing process, which are produced with recycled plastic bottles," said Chris.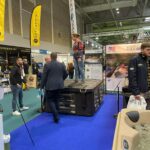 "A lifetime warranty on the Tuff Top cover patented design is what sets Tuff Spas apart from other hot tubs in the market and the fact that it eliminates the cost of regularly replacing traditional hot tub covers and also instantly reduces the extra environmental burden of landfill waste.
"The success we've achieved in our first year with Tuff Spas has surpassed all of our expectations and we're now looking forward to promoting new designs in 2022 that we believe will enhance their popularity."
Chris and members of the WhatSpa? Professional 1 Stop Spas team, which supported the successful launch of a new Master Spas Nottingham showroom earlier this year, are scheduled to be representing the 1 Stop Spas Trade division at SPATEX 2022 for a 25th 'live' anniversary outing of the wet leisure products and services showcase, running from February 1to 3, at the newly-named Coventry Building Society Arena.
Before commencing their pre-SPATEX schedule in January, the Sleaford-based 1 Stop Spas team are being given a 'very well-deserved rest' over the Christmas period.
"This year, for the first time, we will be closed over Christmas and New Year, to give our amazing staff a very well-deserved rest after a crazy busy and demanding year," reported Chris.
www.1stopspas.co.uk