Transformative heating and cooling technology
Balboa has launched an eco-friendly Clim8zone Heat Pump that combines exclusive energy-efficiency technology with a cost-effective design that transforms the way owners heat or cool the water of a hot tub or swim spa.
The Clim8zone product technology provides world-class quiet, accelerated heating, or cooling, of the hot tub water with lower, sustained costs and is fully integrated with Balboa's powerful BP Control System and SpaTouch3 panels. It features a variable speed compressor and an intelligent algorithm to optimise energy output.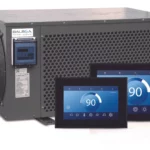 One of the key aspects of the Clim8zone heat pump is that it meets the latest industry demand, including the ability to cool the water of a swim spa to the ideal temperature to exercise.
"The new Clim8zone Heat Pump is revolutionary, answering the health and wellness industry's needs to reduce the costs of running a hot tub while transforming the heating and cooling of the spa water," said a Balboa spokesperson; "The larger the volume of water a spa contains, the more energy is required to keep the spa water warm and/or cool."
As part of the launch, Balboa has highlighted that local weather affects a hot tub's energy usage, especially in cooler climates which can negatively impact the hot tub or swim spa's heating system and cause them to consume more energy to maintain the desired water temperature.
Balboa has revealed that the Clim8zone Heat Pump's auto-smart mode uses artificial intelligence to adjust the compressor speed up or down automatically by using a variety of sensors, including local ambient air temperature, air humidity, and water temperature. The costs of maintaining the hot tub's desired water temperature are then reduced substantially while using significantly less energy.
Within the Clim8zone Heat Pump design there is the capability for users to take advantage of three temperature options for heating and cooling the spa water.
These are the heating only mode, which heats the spa water; cooling only mode, which cools the spa water; and the default mode of both heating and cooling, which heats and cools the spa water as per the spa user's designed setting in the spa panel.