Trio gain long-service recognition
Golden Coast members Adam Clark, Emma Johns, and Nigel Paul have received recognition for decades of service.
The wet leisure product supplier has become known for being dedicated to finding, and retaining, the best team members in the business and recently honoured the trio for their long-time service.
Adam Clark reached his ten-year milestone, having started his career at Golden Coast as Sales Manager, before becoming Sales Director, and now, General Manager at Golden Coast and PPG UK, which is now combined with Golden Coast as part of the Pollet Pool Group,
"They say if you find a job you love you'll never work a day in your life, and that's how I feel about working at Golden Coast," divulged Adam.
"It was a particularly proud moment for me when I was promoted to Sales Director, and I appreciate the faith and trust the Directors had in me. Golden Coast is now part of Pollet Pool Group, and as Golden Coast General Manager I'm looking forward to supporting the team and building on the shared family-focused ethos.
"The last ten years has been amazing and no doubt the future will be even better."
Emma Johns, meanwhile, has been celebrated for serving an impressive two decades at Golden Coast. As Credit Controller, Emma plays an instrumental role in operations, and is part of every stage of the customer's journey, from account setup to payment.
"A sale isn't a sale until it's paid for," revealed Emma.
"I've been here for 20 years and I really enjoy what I do. I love the people, and just the general aura of the place. There have been lots of changes, but we're always a united team here at Golden Coast."
HGV driver Nigel also joined Emma in receiving recognition for his long double decade of service at Golden Coast and has been praised by Adam Clark for his integrity and dedication to his role within the warehouse team.
"Nigel is a key part of the warehouse team, and for him no job is too small," revealed Adam. "Nigel is so much more than a driver.
"He works extremely hard, with integrity and honesty, and is liked by all our customers. He lives and breathes Golden Coast."
For the latest Wet Leisure Survey results generated from trade feedback in conjunction with Golden Coast and support from BSPF, ISPE, BISHTA and SPATA, as well as trade media, including WhatSpa? go to: www.wetleisure.com
"We would like to thank everyone who took part in the survey," said Adam.; "It gives the trade a unique view on how businesses around the country fared last year, and how they feel about the coming months.
"Energy prices were by far the biggest concern among the survey respondents, and understandably so. Many reported that the most important thing their customers are looking for is energy-efficiency.
"They want products that can save them money, and we will undoubtedly see more and more products arrive on the market designed to do just that."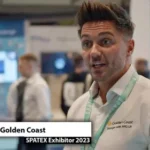 Adam, pictured, is also among SPATEX 2023 exhibitors featured in the testimonials filmed during this year's exhibition at the Coventry Building Society Arena by Taya Media Ltd that can be viewed on the enhanced SPATEX website at:
www.spatex.co.uk/2023-testimonials-bee9
"SPATEX gives us that platform to have face-to-face interaction," revealed Adam.
To book a stand for SPATEX 2024, which is being hosted at the Coventry Building Society Arena from February 6 to February 8, telephone directly on :+44 (0) 1264 358558 or via email contact helen@spatex.co.uk or michele@spatex.co.uk