Trio join Certikin swim spa range
Certikin is sinking additional dealer offerings into its thriving relationship with Catalina Swim Spas with a trio of new models in the Olympic range.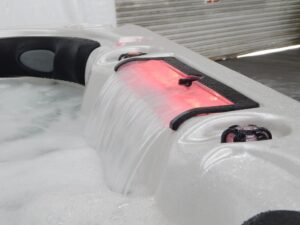 Certikin has announced its launch of the imposing Olympic 21/6 dual temperature model which comes in at 6400mm x 2280mm x 1370mm and is the largest swim spa that Catalina Spas has ever built. It has an 8,500 litre capacity and the main swim spa section incorporates three powerful stainless steel river swim jets. Meanwhile the spa section features a design based on the award-winning Catalina Spas Constellation model, which provides seating for five people plus a contoured lounger seat. In addition the luxurious swim spa features two LED waterfalls, eight LED crystal water features and three pop-up LED Trevi waterfalls.
A Regatta 12 Classic LE and the Freestyle 14 Classic LE, meanwhile, have also joined the flagship model in the growing Certikin swim spa offering.
Designed as an economy version of the Regatta 12, the Regatta 12 Classic LE provides a three pump rather than four pump system and features two, rather than three, counter current swim jets. As such it can utilise a 40 amp supply instead of a 63 amp requirement.
The Freestyle 14 Classic LE, meanwhile, features a slightly reduced specification with three pumps rather than four and two counter current swimjets rather than three to ensure it can use a 40 amp supply.
Catalina Spas Managing Director Stephen Crabb revealed that he expected the brand's swim spa sales to double in 2014 over the 2013 total and reported that the first year with Certikin dealers retailing them had been a fruitful one.
"Certikin's dealers performed really well during their first year with our swim spas in 2013 and they are excited about the prospects for the future," said Stephen.