Triple boost for SPATEX host
SPATEX host Coventry Building Society Arena has increased its growth strategy with a triple appointment boost to its business development team.
Following a strong first half of the year, including accommodating a successful ninth edition of SPATEX hosted in Coventry, Josh Brown, Lee Griffiths and Paula Young have joined the venue as business development managers. The trio will be tasked with expanding the venue's business on a national scale and forming relationships with agencies across the conference, exhibition and meeting sectors.
Lee, pictured right, is a member of the Institute of Hospitality and has arrived at the Coventry Building Society (CBS) Arena as business development manager for agencies after a varied career that has already included 11 years in operations for hotels and 12 years in sales for hotels and sports venues. Among his previous appointments have been Northamptonshire County Cricket Club, Bespoke Hotels, and Novotel Hotels with sales and marketing management roles.
As part of his new role as national business development manager for CBS Arena, Josh, pictured left, will be transferring his nine year recruitment experience to enhance the level of national corporate bookings for the venue. Before becoming established in the recruitment sector he began his career in events as a sales executive for Nuneaton Borough, which included organising a major music festival that attracted an audience of over 3,000.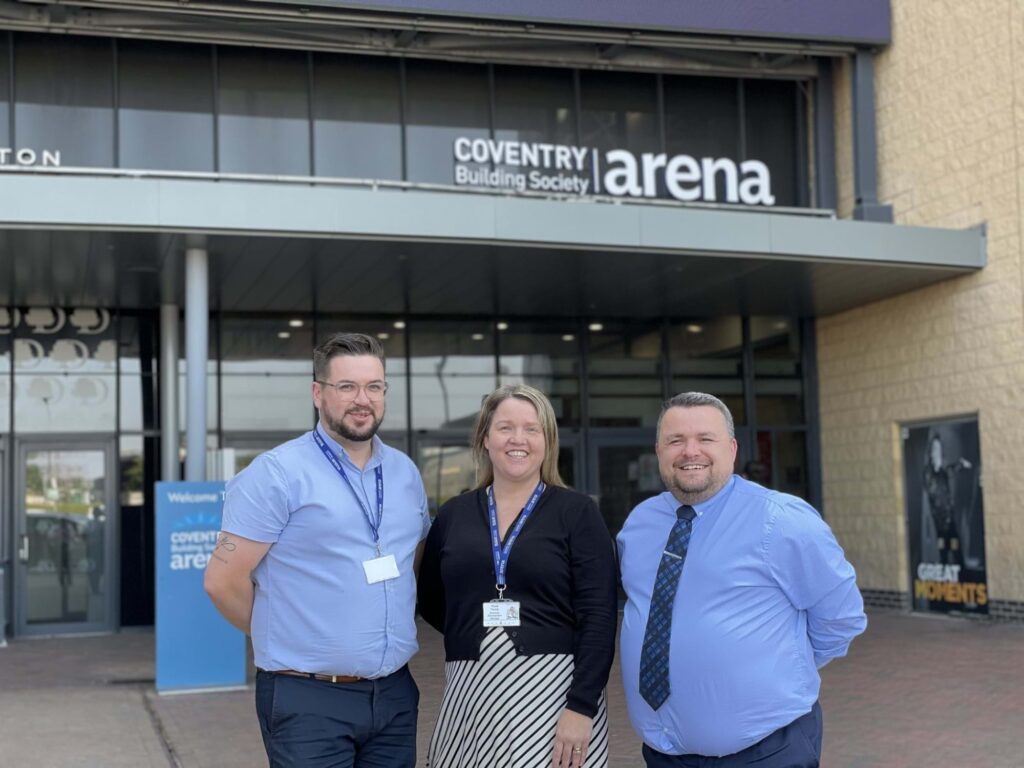 After 20 years working in sales, meetings and events for major hotel groups including Village Hotels, Best Western and Hilton Hotels, Paula, pictured centre, is now national business development manager at the CBS Arena.
"This felt like the perfect time to join Coventry Building Society Arena, with the venue hosting a range of high-profile events and thriving under new ownership," revealed Coventry-born and bred Paula.
CBS Arena Director of Sales and Marketing Jenni Ford has welcomed the trio after revealing that their appointments are set to be pivotal to the venue's evolution.
"They will play a key role in supporting the evolution and progression of the venue as we continue to thrive in this new era, and cement Coventry Building Society Arena as an industry leader in the conference, exhibition and events sector," said Jenni
SPATEX will be marking its tenth anniversary in Coventry for the 2024 outing and has already committed to 2026 at the venue, which has delighted CBS Arena Commercial Director Paul Michael.
"SPATEX is a staple of our event calendar at the venue and one of the real highlights," Paul enthused; "The event is unique and completely transforms the versatile exhibition space we have at Coventry Building Society Arena."
SPATEX organiser Michele Bridle has praised the venue, which also hosts a dedicated SPATEX Networking Party and the British Pool & Hot Tub Awards during the three-day wet leisure extravaganza, for its capability to provide multiple on site facilities for visitors.
"Keeping exhibitions on site during the show is really important to us and helps to generate a sense of community in the industry," divulged Michele.
In the build up to the 27th outing of SPATEX that takes place from February 6 to February 8, 2024, over 70 exhibitor places have been snapped up. Bookings can be made by telephone directly on :+44 (0) 1264 358558 or via email contact helen@spatex.co.uk or michele@spatex.co.uk