True crime book success for PR guru
A best-selling book by SPATEX and Certikin PR guru Penny Farmer that twice hit the top of the charts in the UK has now been published in the USA and inspired a major BBC podcast.
The true crime story 'Dead in the Water'; published in the UK by John Blake and inspiration for the BBC 'Paradise…they sail into hell' podcast by Senior Broadcast and Investigative Journalist Dan Maudsley and Northern Irish TV and radio presenter Stephen Nolan for BBC 5 Live, available on BBC Sounds and Apple Podcasts; sadly involves the horrific murder of Penny's junior doctor brother, Chris, and his girlfriend, Peta, while they were taking a boat trip in Central America.
For nearly four decades it had been a cold case, but Penny's tenacity, never give up mentality, and online detective work in 2015; which was combined with fresh investigations by police forces in Manchester and the USA; resulted in the arrest in Sacramento of the 75-year-old psychopathic serial killer Silas Duane Boston; who later died in custody before he could stand trial.
"I was 17 when my 25-year-old brother, Chris, was brutally and inexplicably murdered in 1978," revealed Penny, who plays a key role behind the scenes in helping SPATEX and Caldera Spas distributor Certikin to hit the headlines in Hot Tub Retailer and other publications within the wet leisure media sector, including WhatSpa? magazine, as well as associated industry titles such as AnimalTherapy magazine.
Penny has revealed that she can still recall the sense of paralysing shock that ricocheted through her family the day they received confirmation from the British Foreign & Commonwealth Office that two tortured corpses found off the Guatemalan coast were those of Chris and his girlfriend Peta. Four decades later, Penny now has a best-selling book and a follow on podcast by the BBC team to illustrate that even the coldest of 'cold cases' can be solved with a strong commitment to finding out the truth.
"It was in October 2015 that the thought came to me from out of the blue to use the internet to track down their killer and his two sons, whom we knew to have been on the boat at the time of their deaths," reported Penny.
"It was this that was to ultimately lead to the arrest in Sacramento of their killer, Silas Duane Boston, who had spent a lifetime of robbing, raping, murdering and evading law enforcement. At the age of 75 he ran out of road."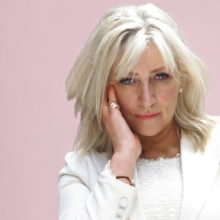 Penny, pictured, has divulged to HTR that writing the book, which hit the top of the 'Murder & Mayhem True Accounts' true crime best-selling charts on Amazon after the first month of its UK launch and then again over Christmas and recently hit the bookshelves in the USA after being published by Diversion Books, has proved to be cathartic after the resumption of the investigation finally solved a cold case that had been viewed as too complex for any law enforcement.
"It's been quite cathartic writing this book," said Penny. "I'm pleased that it has been received so positively and become a leading BBC podcast after being picked up by BBC Sounds."
As part of her investigations, Penny discovered that Chris and Peta suffered horrific brutality and torture at the hands of Boston before they were tied up with weights and thrown overboard.
"My parents, Audrey and Charles Farmer, went to unbelievable lengths to try to establish what had happened to Chris and Peta and bring their killer to justice and they succeeded in securing some crucial evidence," revealed Penny; "However, with their suspected killer, Californian citizen, Boston, proving to be highly elusive; the victims, two British citizens; the maritime murder occurring in Guatemalan waters; no scene of crime evidence, the case very quickly went cold.
"The crime was deemed too complex for any law enforcement to solve and no country was prepared to pick up jurisdiction.
"I always wanted to know what happened to Chris and Peta; but what I discovered during my investigation was truly horrific. They were tortured for three days and then thrown overboard fully conscious 'hog tied' to engine parts as weights.
"They were just like lambs to the slaughter. Peta was raped remorselessly. Their killer showed no mercy and really was the devil personified. He is now being viewed as one of the USA's most elusive serial killers. He had no respect for human life.
"We discovered that he had a mental code. He gave his victims one chance to get away or hurt him then he felt that he was fully justified in killing them. My brother even helped him at one point by giving him a pain killing injection. But this probably made Boston feel humiliated and resulted in him torturing and murdering Chris and Peta.
"He was so arrogant and after nearly 40 years he had thought he had got away with the murders. Seeing him on Facebook in 2015 was surreal. Thankfully, his sons, Russell and Vince Boston, came good eventually and helped with the investigation.
"In the end that is something that is positive about this case. It seems that they are good citizens, despite having a father who was a murderer. I'm heartened by that and the fact that they are really decent guys."
Penny's father died in 2013, before the online investigation commenced, but her mother; now in her 90's; finally knows the full truth about Chris and Peta's murder and how the culprit was captured and died before he could be brought to trial.
The Farmer's, who had another older son, were living in Manchester at the time of Chris and Peta's disappearance and Greater Manchester Police Force Review Officer Martin Bottomley attended the same school as Chris.
"I have always felt a personal connection to this case," he revealed; "Not just as an investigator, appreciating the horror and brutality of these murders, the physical suffering they endured, the perpetual mental torment of their loved ones, but also, a deep empathy as a contemporary of the victims," he said.
"In my 39-year career with GMP, this case has been one of the most fascinating and tragic that I have worked on.
"All murders have an enduring impact on loved ones, but I have never before witnessed the gracious stoicism of a lady who has for almost four decades, at the same time grieved and been living in limbo, never knowing what really happened to her son. When we discovered the truth and the full horror of what happened on the boat, I was dreading narrating the events to Chris's mum.
"However, I should not have been surprised at her bravery and her desire to know every last detail, no matter how hurtful. I felt privileged to be in her presence."
During a trip to Belize and Guatemala for the making of the BBC Paradise podcast Penny discovered the graves of Chris and Peta, a few years after the FBI failed to find the graves during a search in 2015.
Since the podcast was recently aired Penny has now admitted that the legal case was more complicated than she and her family were led to believe; and she has also praised Dan Maudsley for his investigative skills and helping to highlight new elements of the case. Penny has also thanked Russell and Vince Boston, whose mother was murdered by Boston, for their help in providing vital evidence and witness statements.
"Dan has left no stone unturned," enthused Penny; "Going well beyond the FBI in his investigation, he has brought the story of my book 'Dead in the Water' bang up to date with some very unforeseen and startling developments . This is investigative journalism at its finest. True crime podcasts don't come any better than this.
"My book stands as a loving memorial to Chris and Peta. It could not have been written without Russell and Vince Boston providing us with the information we had desperately sought for 38 years.
"My family are grateful to them for going forward to several law enforcement agencies, not just once but time and time again over the years, reporting what they had witnessed and in the expectation they would act and arrest their father. In losing their mom at the hands of Boston, we recognise their equal loss and pain.

"I would also like to thank the many American and British authors and book reviewers who have been so generous in their support of my book and encouraging words."
As well as being available on Amazon, 'Dead in the Water', which has been dubbed as 'the chilling oldest international cold case ever to be solved', can be purchased at Waterstones, Foyles, and WH Smith Travel.