Tuff going with new partnership
1Stop Spas has gained a major boost for its second year as exclusive distributor for the Tuff Spas brand by announcing a new partnership with Cottages.com.
After celebrating sales success during the first year as UK distributor for the rugged and environmentally-friendly brand, 1 Stop Spas chief Chris Brady, who also runs 1 Stop Spas Trade and SpaTech Training, has reported the new status of 'Preferred Suppliers of Hot Tubs, Swim spas & Hot Tub Training Services' to Cottages.com and its clients.
To help promote the new national partnership with Cottages.com, Chris has also revealed that the 1 Stop Spas team will be promoting the benefits of HSG282 compliant hot tubs with specialist advice to property owners seeking to develop their hot tub holiday businesses by staging a series of 'Hot Tubs In Holiday Lets Open Days'.
"To launch this exciting partnership, we will be hosting the first of many free events for holiday let and hot tub advice," said Chris.
Cottages.com Business Development Manager Christopher Olly believes that hot tubs are the perfect addition for property owners wanting to gain an instant profit stream from the booming 'staycation' market.
"The hot tub holiday market is booming and my advice at the moment is to install a top quality HSG282 compliant hot tub and then gain immediate revenue streams before even thinking about any other expenditure on a holiday accommodation property," divulged Christopher.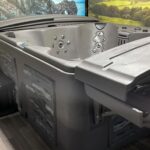 During the past year Tuff Spas UK has made a big impact in the hot tub holiday sector and companies such as Lincolnshire Coastal Cottages have been gaining extra bookings benefits after installing Tuff Spas, which are produced with recycled plastic bottles in the manufacturing process.
Hot tub holiday businesses have also been impressed by the lifetime warranty on the Tuff Top cover patented design that is helping to drive up sales of Tuff Spas in this sector.
"The Tuff Top eliminates the cost of regularly replacing traditional hot tub covers," explained Chris Brady.
Members of the 1 Stop Spas Trade team, which helped to launch and establish a Master Spas Nottingham showroom last year, will be exhibiting at SPATEX 2022 during the 25th 'live' anniversary outing of the wet leisure showcase, running from February 1to 3, at the newly-named Coventry Building Society Arena.