Turning on energy-efficiency promotions
Experienced hot tub and swim spa specialist Euphoria Lifestyle is promoting the benefits of top quality hot tubs that provide the best energy-efficiency levels along with a multitude of physical and mental wellness benefits.
After turning on its sales and marketing initiatives for the summer months, the West Sussex-based Aquavia Spa and Jacuzzi dealership is highlighting the fact that prospective hot tub owners can benefit from cheaper soak sessions by purchasing quality products that ensure energy use is minimalised compared to cheaper, poorly manufactured models.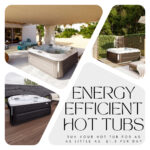 Euphoria Lifestyle is proclaiming that a quality energy-efficient hot tub soak can be achieved at a cost of just £1.50 per day and is advising prospective owners to gain a more energy-efficient hot tub lifestyle by always shopping around for better energy tariffs. Other tips include ensuring the best location for a hot tub, and investing in a quality hot tub cover that should always be maintained to gain maximum benefits.
"Our hot tubs are on average 22 per cent more efficient than the CEC standards," declared Euphoria Lifestyle's Managing Director Mike Robinson.
The WhatSpa? Professional dealership received top 2022 BISHTA AWARD recognition in the 'Best Use of Digital Media' category as part of the British Pool and Hot Tub Awards ceremony and during the past two years of the COVID-19 pandemic the digital promotional activities have also featured celebrity client updates, including new Jacuzzi installations and servicing duties for singer and TV presenter Peter Andre and British former track and field athlete Sally Gunnell OBE DL
"It's very rewarding to gain awards from the industry you are representing but our top priority has always been our customers and thankfully we now have a very large list of satisfied hot tub owners, including Peter and Sally, who we continue to deal with on a regular or annual basis," divulged Mike.
"The fact that these celebrities are still using and advocating our products and services after so many years is very pleasing and is testimony to our top quality products and our high levels of professional after-care."