Two more days of SPATEX training
Hot tub and swim spa dealers are being urged to take advantage of two more days of guidance and training as part of the bumper SPATEX seminar schedule at the Ricoh Arena this week.
Even though the first day of the bumper seminar programme has just concluded, ahead of the British Pool & Hot Tub Awards industry Gala Dinner tonight, there are many more opportunities for visitors to gain extra wet leisure knowledge or receive tips on how to promote their company activities and increase profitability as part of the second and final days of SPATEX in two dedicated seminar areas in Arena 1 and Arena 2, organised in conjunction with the Institute of Swimming Pool Engineers (ISPE).
Tomorrow morning, at 11am, in Arena 2 Certikin Commercial Manager Steve Nelson will be providing details of the trailblazing OC-1 filter media to increase awareness and promote its market presence.
Launched in early 2016 and promoted at last year's exhibition, the OC-1 filter media is already providing stiff competition to traditional filters. Certikin, which has three stands at this year's exhibition, is utilising its SPATEX presence to showcase two new complimentary OC-1 filters for both the commercial and domestic markets.
Meanwhile, one of the highlights of the SPATEX Seminar schedule is a talk tomorrow by Simon O'Loughlin, a specialist International Personal Injury lawyer at Irwin Mitchell, entitled 'The Legal Implications of What Happens When It Goes Wrong'.
It is being held just after noon tomorrow at 12.30pm in Arena 1, where Simon will highlight what happens when you pursue a Civil Case and also outline the Applicable Law, proving Negligence, evidence required and examples of a successful case.
Tim Evans, founder and current member of the British Association of Natural Swimming Ponds, has also been booked in for the second day of SPATEX seminars and will be providing an introduction to swimming ponds and natural swimming pools.
This seminar is due to start at 12.30pm in Arena 2 and is scheduled to end at 1:45pm. As part of the seminar there will be an opportunity to fire questions at Tim in a planned 'Q and A Session'' following the talk.
For those making an early start to their training provision tomorrow morning Arena 1 will be hosting guidance by Allen Wilson FISPE to provide visitors with the latest advice on Legionnaires' disease and cryptosporidium, from 10.15am to 10.50am, which is being followed in Arena 1 by a seminar on 'Swimming Pool Covers' by Will Dando FISPE, from 11am to 11:20am.
Later in the afternoon Doric Marketing chief Dorian Davies will be providing marketing tips as part of his 'How to put together a marketing strategy and why you need one in the first place' during the half-hour session in Arena 2, which is scheduled to run from 2pm to 2.30pm in Arena 2,
There will also be a 'Health & Safety Update' for hot tub and pool operators on Wednesday, from 2.45pm to 3.05pm, in Arena 1.
Not long after the doors open for trade visitors on Thursday morning John Key and Keith Prescott MISPE will be conducting a 'Green Pool?' seminar in Arena 1 outlining common causes and what to do if it all goes wrong, from 10am to 10:30am.
Commencing at the same time in Arena 2 on Thursday, Janice Calvert will be highlighting new PWTAG membership opportunities from 10am to 10:45am, which is scheduled to be followed by a 'Design Considerations' seminar by Steve Carder in Arena 2, outlining self priming versus flooded suction options and a PWTAG pool specification technical note, from 11am to 11.20am.
Later in Arena 2 on the final day of SPATEX Mark Bagnall will be conducting a seminar on 'Preventing Dangerous Incidents', which will provide advice on preventing gassing and other common faults with plantroom design, from 12:15pm to 12:50pm.
John Lee and Sarah Wratten are then scheduled to provide advice on the risk assessment approach to pool design an operation in Arena 2 from 2pm to 3pm.
In Arena 1 Andrew Reid will be providing his guidance on best practice on 'Specifying tiling for swimming pools and other wet leisure areas' from 2pm to 2:30pm. The seminar will also highlight the impact of tiles, backgrounds, water chemistry and finished environments on the waterproofing, adhesive and grout specification.
"SPATEX 2017 is much more than just a shop window on the latest products and innovations," declared SPATEX organiser Michele Bridle.
Visitors to the second day of SPATEX can also take advantage of an opportunity to socialise as part of the exhibition's special 21st Anniversary Party and Networking Reception commencing at 5pm in the Ricoh Arena's Clubhouse bar.
"We're hosting a celebration of our 21 years service to the industry," said Michele; "We hope exhibitors and trade visitors will join us for free drinks, delicious food and music."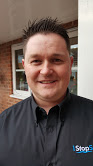 Award-winning hot tub and swim spa retailer and 1 Stop Spas chief Chris Brady, pictured, is also going to be continuing his promotion of his new SpaTech Training scheme during the second and third days of the special edition of the wet leisure showcase.
Visitors to the SpaTech Training stand will be able to gain further information about the scheme, which is helping to raise the professional bar within the British hot tub market.
In time for the SPATEX promotion a suite of specifically designed SpaTech Training courses has been established that focus on technical and safety related tuition and professional development of hot tub and swim spa retailers and wet leisure specialists within the industry.
As an APSP Approved Training Provider and in association with BISHTA, the SpaTech Training courses will cover APSP Certified Hot Tub Technician; Hot Tub Specific Manual Handling; Water Chemistry Training, Holiday Park Hot Tub Management; Forklift Initial and Refresher Training; Hiab Training; Telehandler Training; First Aid at Work; and Fire Safety Training.
"We will have a suite of courses available and will be showing them at SPATEX," said Chris.
Other hot tub and swim spa product exhibitors at SPATEX 2017 welcoming visitors to their stands include: Allseas Spas & Wellness, Aqua Design & Leisure, Aqua Spa Supplies, Aqua Via Spa, Aquafinesse UK, Certikin with Caldera Spas promotion, Coast Spas UK, Elite Spas, GMT Spas International, Golden Coast, Hydrospares, L.A Spas, LaMotte Europe, O-Care, Passion Spas, Pollet Pool Group, SCP UK, Spa Crest Europe with Tuff Spas promotion, SpaTech Training, Superior Spas, Villeroy & Boch, Vita Spa, and Wellis.
Visitor opening times for the second two days of SPATEX 2017 in the Ericsson Exhibition Hall of the Ricoh Arena in Coventry will be 9:30am to 5pm on Wednesday, and 9:30am to 4pm on Thursday.