The UK Pool and Spa Expo is returning for a third instalment in Birmingham with a 'bigger and better' promise from organisers.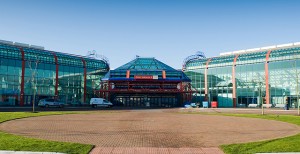 The National Exhibition Centre (NEC) will once again be welcoming the wet leisure industry this week to showcase its products and services to both the trade and consumer audience.
Exhibitors from the first two outings have continued to support the event, running from January 22 to 24 in Hall 10, which will see the return of USA brands Alps Spas, Artesian Spas, Viking Spas, and Vita Spas to claim exhibitor hat-tricks in 2015 alongside fellow USA manufacturing heavyweight Marquis who will be making a second appearance. High-profile 'new recruits' will include iconic global brand Villeroy & Boch when the exhibition opens its doors to visitors.
Exclusive offers
Special exclusive offers are being provided by exhibitors during the event including a ten per cent discount to holiday park operators by Artesian Spas, on Stand 320, for orders made at the exhibition.
Exclusive Vita Spa distributor Richard Hart of Aqua Warehouse will be highlighting his Aqua Spa Supplies product information on Stand 433 and is providing a free cover lifter with every trade order over £300 that is taken at the NEC.
Viking Spas distributor Spa Solutions, on Stand 200, will also be providing an exclusive offer of 40 per cent off a sixth spa purchase when five Viking Spa models are ordered during the three-day event.
Summit Leisure is taking ten per cent off all commercial grade spas ordered at the exhibition; while Allseas Spas is providing a free shower or step with every spa or swim spa order.
Hydrospares is offering a ten per cent discount for those that pick up an online order code at the exhibition; as is Darlly Europe; while BAYROL has pledge to knock 15 per cent off the list price of a BAYROL Compact Amperometric Free Chlorine & pH Controller; and ITS Europe Ltd is providing a free Pool Water Reagent Box, worth £46.99, with every purchase of a new iDip Smart Photometer, which is priced at £124.99.
Success pledge
Once again organisers have been busy behind the scenes pulling out all the stops to provide another professionally-run event to increase the exhibition's status among retailers in the UK market. Claire Saunders, Director of the New Events company that is spearheading the exhibition, has pledged to build on the past two outings at the NEC by cranking up the success of the event.
"We have run two successful shows and now it's time to take it up a notch," said Claire; "We have lots of exciting ideas for how to improve on our content and to add a lot of new features.
"Thanks to the great support from our exhibitors we can really concentrate on making the show a valuable experience for our visitors, and we are lucky to have a global database and strong media partners who will work with us to achieve these goals.
"Bigger floorspace means a bigger show with returning favourites such as the New Product Zone and the NSPF Certified Pool Operators Course."
Product Zone
New staging of the Product Zone is being planned for UK Pool & Spa 2015 visitors at the entrance of the exhibition. This will ensure that everyone who passes through the doors of Hall 10 will have gained the opportunity to view the latest wet leisure products that are being promoted to retailers.
"This feature has become a popular area for visitors and is seen as one of the highlights for many visitors as it provides cutting-edge technology," said Claire Saunders.
Ben Dobson has been helping the New Events team to ramp up its exhibitor numbers ahead of this week's event and believes that visitors will welcome the change of location focus for new products.
"The New Product Zone provides a talking point for visitors once they enter the exhibition and after they leave the venue," said Ben.
"Rather than having to walk past other exhibitors first, visitors will now be able to check out the Product Zone before making their way round the stands in Hall 10."
Wellness Area
This time round organisers will be creating a dedicated Wellness Area to highlight additional retailing opportunities for visitors at the exhibition.
The new Wellness Area is set to focus in particular on the sauna industry, which has been promoted in previous years by exhibitors spread throughout the exhibition halls. It will now promote associated services, products and technology that are providing health benefits to sauna users; provided by companies such as Canadian outdoor barrel and indoor sauna specialist Dundalk Leisure Craft.
As well as its Cedar saunas, the Ontario-based family-run company produces uniquely-designed wood burning hot tubs, gazebos and outdoor furniture. During the third outing of the UK Pool & Spa Expo the exhibitor will be promoting a new electricity-free Outdoor Red Cedar Hot Tub that generates heat from a wood-burning stove, new barrel sauna options including a Cove Overhang design to provide owners with a roof over the sauna doorway but without a full porch; as well as its new square cabin saunas.
"Saunas and steam have always had an influence at our event and this year we will be shining a spotlight on the sector with a dedicated area," Claire divulged.
"The health benefits of wellness facilities are vast and significant and the UK Pool & Spa Expo will be creating more awareness of these through live event content."
Central Hub
Also new for the exhibition's third instalment will be the Central Hub. It will replace the previous Exhibitor Lounge and is set to be situated in the heart of the event.
Organisers have revealed that the Central Hub is due to incorporate a mix of visitor catering, an Exhibition Lounge, an open seminar auditorium and a media-hosted networking forum. This will provide a suitable area to speed network, and meet buyers, or simply a location to relax while sampling the refreshments.
"The Central Hub area will be a dynamic space that will attract all audiences at the show and give them an opportunity to sit, meet, chat and exchange," said Claire Saunders; "The area will be a dynamic space that will attract audiences at the show and give them an opportunity to sit, meet, chat and exchange.
"We will also be providing free WiFi connectivity for visitors to continue to remain in contact with their showrooms and offices."
Lounge networking
During the afternoon sessions of the two trade-only days there will be a dedicated lounge area that is scheduled to host a lunch and networking opportunity for architects on January 22, and leisure operators on January 23.
"Day one will be sponsored by design and build companies who will be able to meet face-to-face with key business contacts," revealed Claire; "They can then show them a little about their services and talk to them about what projects are forthcoming and what is changing in the industry.
"On the second day the sponsors will take the form of maintenance, equipment and facilitator companies that once again will be given the opportunity to meet with their target audience."
Travel bonus
Ahead of the 2015 wet leisure showcase, the NEC Group and Virgin Trains have announced a new partnership that is set to benefit visitors travelling be train.
The national train operator has become the exclusive rail partner for the venue as part of a three-year deal. It will provide NEC Group customers with a 25 per cent discount on Virgin Trains' Advance fares.
Trade visitors should note, though, that they will need to show their UK Pool & Spa Expo event registration details along with train ticket in order for the discount to be valid.
"This is the first time that Virgin Trains has agreed such a partnership with a live events organisation," reported Claire.
NEC Group CEO Paul Thandi said: "Our venue is renowned for great transport links and connectivity. It takes just over an hour to get to the NEC site from London and an hour and half from Manchester on the train. It is now even greater value for money."
2015 exhibitors
Exhibitors at the 2015 UK Pool & Spa Expo in Hall 10 (with stand numbers), will include: Allseas Spas & Wellness 150, Aqua Spa Supplies 433, Artesian Spas 320, Bayrol 208, Compass Ceramic Pools UK 420, Darlly Europe 524, Dundalk Leisure Craft 500, GMT Spas International/Suntrap Systems 430, Hydrospares 204, JAK Water Systems Ltd 410, LaMotte Europe 24, L.A. Spas 130, Lovibond 352, Marquis Spas 100, Melspring International 410, Passion Spas 450, Plastica 54, Pleatco – Pozzani Pure Water 4, Pollet Pool Group 208, Softub UK 140, Spa Solutions/Alps Spas/Viking Spas 200, SpaEuro 300, Summit Leisure 150, Superior Spas 202, Thermals Spa Ltd 340, Villeroy & Boch 135, Vita Spa 435, Vlemmix Wellness & Sun Spas 220, Wellis 120, and Wizard Whirlpools 400.
Other exhibitors (with stand numbers) include: Alpha Industries 360, Aqua Pharos International Ltd 90, Aqua Spa Supplies 433, Biochemica 310, Darlly Europe 524, Desjoyaux 316, Doric Marketing 12, Drainstones 312, GroundsCare Products 412, HEATSTAR 530, HQ Pool LED Lighting Ltd 350, Hydrospares 204, ITS Europe 2, Laticrete UK 240, On-Site Pool Linings Ltd 16, Paragon Stainless Products ltd 416, Pool Chemical Products 310, Pool Fence UK 6, Pool Lock 52, Pool I.D 50, Portrait Pools & Enclosures 405, Rotowash UK Ltd 522, Saunita UAB 168, Swimex 535, TTA Tilezine 30, and Ziplevel 412.
Supporting partner
Once again, Hot Tub Retailer magazine will be among the media partners and exhibition sponsors for the UK Pool & Spa Expo.
HTR Editor-in-Chief Nick Clamp believes that the strong focus by organisers on the hot tub and swim spa market and New Product entrance focus, will help to attract visitors and enhance the exhibition during its third appearance in Birmingham.
"UK Pool & Spa Expo organisers have been pulling out all the stops to increase the popularity of this fledgling exhibition ahead of its hat-trick of appearances at the NEC marking two decades of promotion for the wet leisure industry," says Nick.
"As always, we hope that the industry will be coming out in force to support the exhibition this week.
"Dealers have the opportunity to enhance their showroom product ranges with some exciting new products from high-profile exhibitors who have made a strong commitment to the industry by attending this exhibition.
"As we have reported , there is a growing influx of new retailers who are likely going to be attending the UK Pool & Spa Expo to gain advice from established brands, while taking advantage of the new products that the industry will be introducing to the market this year.
"Good luck to the UK Pool & Spa Expo organisers and all exhibitors."
UK Pool and Spa Expo 2015 opening hours for the first two days of the show, on January 22 and 23, will be between 10am to 5:30pm. On Saturday, January 24, the third and final day of the UK Pool and Spa Expo is the dedicated Consumer Day that will be staged between 10am and 3pm for exhibitors in Hall 10 to meet with members of the public as well as trade representatives.