Unique design for new WaterWall
SpaFlo Ltd has launched a new WaterWall design from the SpaFlo Special Projects Division that has developed a unique and secret overflowing weir design.
This design feature now delivers the perfect flow of water for the WaterWall, which is suitable for indoor use or as an outdoor water feature and includes the reservoir and pump to run it. It is made from stainless steel and can be produced to any size and to suit client requirements.
Due to its strength; along with the ability to remain colour-safe under UV rays, and for its overall clarity; the 'window' is in plexiglass acrylic; which is the same material used for pool windows.
A SpaFlo display WaterWall model measuring 2.5m wide and 2.5m tall, which was made from 316L stainless steel sheets, was on display at SPATEX 2023. It has been developed to compliment the company's 'Sanus Per Aquam' (health through water) product range.
Incorporated within the design is a smart pumped filtration water circuit that delivers back to the upper weir through both side columns. The base trough and plant equipment is covered in a mosaic-tiled unit; which can also feature an array of different finishes, if preferred, for personalisation.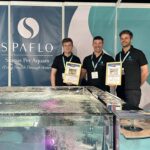 As part of the launch promotion Widnes-based SpaFlo, which gained double Gold Award acclaim during the BISHTA Awards ceremony of the 2023 British Pool & Hot Tub Awards hosted at the Coventry Building Society Arena, has revealed that the WaterWall can incorporate personalisation. This means that the wall can be etched with a logo, branding, or significant words and dates.
"Our new WaterWall provides a 'Health through water' solution, delivered via a tiny pump which costs very little to run." revealed SpaFlow Ltd founder and Managing Director Richard Gowland, pictured centre.
"This special water feature can be scaled up or down to suit any residential or commercial space. We've already had an order from a restaurant in Manchester.
"The sound of running and falling water is calming and soothing; it brings health benefits to an office, restaurant or spa environment, with its relaxing properties."
BISHTA Gold Awards in the 'Residential Hot Tubs £14,000 and Over', and the 'Swim and Exercise Spas' categories were presented to SpaFlow Ltd during the 2023 British Pool & Hot Tub Awards. following the first day of SPATEX 2023.