Victory ensures hot tub win
A hot tub purchase refund has been won by a lucky Award Leisure customer after the England cricket team were victorious over New Zealand at the end of the thrilling World Cup Final at Lord's.
Since the start of June the Coast Spas and Regency Spas specialist dealer network has been running a World Cup-themed sales and marketing initiative to provide new customers with 'Three Chances to Win' their money back from a hot tub purchase if an England team won any of the 2019 World Cup football, cricket and rugby tournament finals.
The retailing powerhouse, which has showrooms in Warwickshire, Lincolnshire, Cheshire, Birmingham, Tamworth and London, bowled over lucky winners Kim and John Franklin from Leicester after holding the prize draw that contained 84 prospective winning names of customers who had purchased their hot tub from June 1 onwards and before the Cricket World Cup Final match commenced.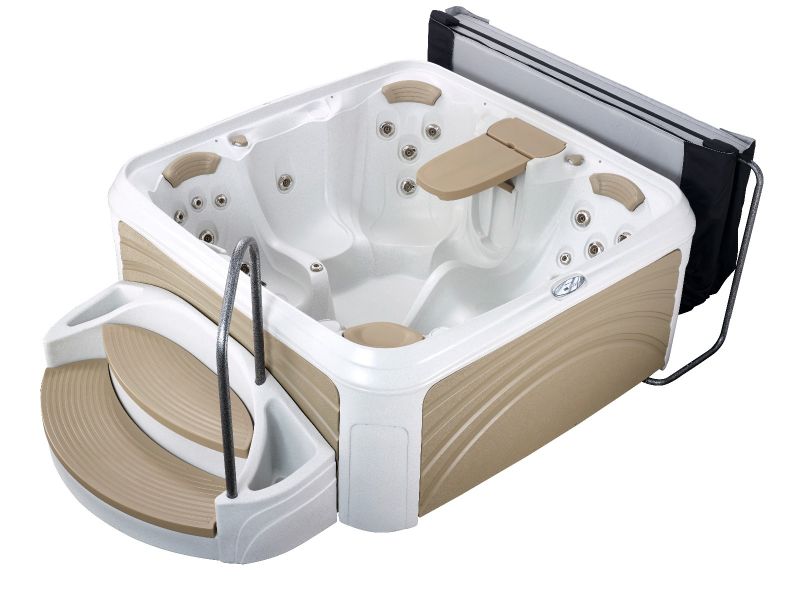 Now the Franklins have had the good fortune of having the £5,890 price refunded on their summer purchase of their Award Suite hot tub that has received TV promotion exposure on ITV's 'This Morning' show.
"John and his wife Kim were selected out of 84 entries to win their money back on their hot tub purchase, meaning they're getting their Award Suite Hot Tub without paying a penny!" reported Award Leisure chief Mark Anthony.
Coming in at 203 x 203 x 86cm, the Award Suite Spa 25L incorporates a lounge seat within its Syncrylic impact resistant design that has three additional seats and has 25 adjustable jets. The specialist retail package includes storage steps with side planters, a hot tub thermal energy-efficient cover, adjustable spa umbrella, cover lifter, drinks cooler, plus a drinks and games table.
It was among the hot tubs on display; along with the popular 2019 WhatSpa? Best Buy Award-winning Regency Spas Baron, which comes in at 195 x 195 x 76cm and is produced by Coast Spas; at the Award Leisure stand during the recent Main Home and Lifestyle Show hosted at the Chelmsford Race Course.
Award Leisure; which is the first industry retailer to gain Which? Trusted Trader Accreditation and is WhatSpa? Approved, is building on its increased profile and status in the market, which includes Gold Award recognition in the prestigious 2019 BISHTA Awards earlier this year, by continuing the World Cup Rugby promotion with a chance for customers to win the money back on their hot tub purchases from any Award Leisure store that are ordered and installed before 9am on November 2.
Along with the World Cup sales and marketing initiative; Award Leisure is also promoting a wide range of hot tubs and swim spa products and accessories to consumers as part of a tandem advertising campaign in the 2019 editions of WhatSpa? and WhatSwimSpa? magazines.
These include 2019 WhatSwimSpa? Best Buy Award-winning models manufactured by Coast Spas; including the Regency Spas Emperor III Bench, which comes in at 3.84 x 2.29 x 1.35m, and the Coast Spas 1303 Lounge, which also comes in at 3.84 x 2.29 x 1.35m; in the sub £19,999 price range; Coast Spas 1401VE, which comes in at 4.08 x 2.39 x 1.35m, in the £20,000 to £29,999 price range; and the Coast Spas 2100 VE, in the £30,000 Plus price category.
Award Leisure has recently taken delivery of the 2100 VE, which has been dubbed as a 'behemoth' by WhatSwimSpa? after being proclaimed as the world's largest infinity edge swim spa that provides 'tandem swimming' capability.
Coming in at 655 x 229 x 161cm and with a monstrous 10,487 litre capacity, the 2100 VE has seating capacity for seven adults and incorporates the Coast Spas patented Infinity Edge technology, 67 Trillium Stainless Steel Massage Jets, dual 24" waterfalls and luxury stainless steel massage jets and its extra wide shell provides enough space for two people to swim together comfortably.