Villeroy & Boch basking in triple praise
Villeroy & Boch has been basking in triple praise for its latest innovative hot tub model designs after completing a hat-trick of European exhibition outings in Birmingham at the UK Pool & Spa Expo.
High-profile representatives for the brand have reported that they have been delighted with the response from the British trade at the NEC-hosted event. It follows very positive praise from two other exhibition appearances at Interbad, in Germany, and Piscine Global, in France to showcase Villeroy & Boch's new seating capability arrangements in the 'Just Silence' design; as well as the new colour options and unique features for the 'Premium Line Colour Edition', which have both been launched for dealerships this year.
During the three exhibitions Villeroy & Boch Wellness at Home Manager Dirk Peters and International Sales Manager Wellness at Home Ralf Banaski have been responsible for promotion of the choice of 16 different user-friendly JetPaks II, including blue and red variations that were on display at the  NEC during the third outing of the UK Pool & Spa Expo.
These JetPaks minimise the risk of leaks while providing users with the innovative capability to be able to transfer them while the Villeroy & Boch hot tub is water-filled to capacity and running.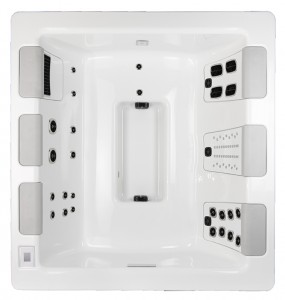 Dirk has been heavily involved with development of the new Just Silence model, pictured, and has played a major part in its successful launch at three European trade shows, which culminated in the UK Pool & Spa Expo.
He has also been keen to highlight that the Villeroy & Boch hot tubs are amongst the most economical in the world, due to the fact that pipes run through water, as well as the fact that the unique support structure of the exclusive EnduraFrame design, which combines with the EnduraBase closed ABS floor that reduces vibrations and provides a noticeably quieter operation.
Visitors to the Villeroy & Boch exhibition stands in Germany, France and England will have quickly realised that Dirk is particularly proud, though, of the Just Silence design that he has helped to evolve and launch to cater for the European market with an understated and simple appearance, plus a minimalist colour scheme.
It also has the distinctive seating arrangement that provides the capability for five people to sit opposite from each other, while allowing them to stretch their legs out comfortably in the space provided.
A new touchscreen display, meanwhile, has also been introduced to the Just Silence model to allow users to individually select massage functions with the JetPaks II technology.
"The Just Silence model is like my baby and it has been very rewarding to finally show it off to exhibition audiences and visitors coming to our displays during the three European shows we have attended," said Dirk.
"This project has been very personal for me and I'm very proud to have been part of it and to bring it to the market.
"Naturally there has been a lot of development and design work involved in the design and production process but we have been overwhelmed by the very high levels of praise from the trade visitors to our exhibition stands for our innovative designs.
"We are now feeling very positive about our new models and are looking forward to introducing them to our dealers this year."
Dirk is currently preparing to oversee UK dealership commitments previously undertaken by Ralf Banaski, who has been instrumental in building up the British retailer network in recent years.
Ralf, a Hot Tub Retailer magazine Talking Heads contributor, has now been given the responsibility of spearheading the promotion of Villeroy & Boch's Wellness at Home product lines and complete service provision for the India market.
"I will be taking over responsibility for Villeroy & Boch's complete organisation in India," reported Ralf. "Ahead of an appointment of someone else to cover the UK, our dealers will be dealing with Dirk.
"He obviously has extensive knowledge about our Wellness at Home products, including our latest models, so our dealers are in safe hands."
Before taking up his new role in India in March, Ralf has also highlighted the impact that the Just Silence model has made in Europe since its launch to the trade at the end of last year.
"We have gained a lot of interest in the Just Silence model in Europe and I believe we will achieve success with it," revealed Ralph.
"This is a very different design to traditional hot tubs and sometimes there is a barrier because people don't want change.
"A lot of time it is just a mental thing and people give me different reasons not to change, but we are confident in our new models and are seeking additional dealers for them.
"Dealers need to realise, though, that they should not start off with talking about the price of the Just Silence model. That should never be the story.
"With a model such as the Just Silence you need to illustrate and talk about all of the design features and benefits and bring in the price factor much later in the sales process."
If you are interested in becoming one of the UK's select exclusive specialist dealers for the brand then email your details to infohottub@villeroy-boch.co.uk