Villeroy & Boch promoting 'New Class' during UKPSE debut
Villeroy & Boch will be promoting what it has dubbed 'A New Class' of innovative hot tub model designs to prospective dealers and consumers during its debut as an exhibitor at the UK Pool & Spa Expo this week.
With appearances at Interbad, in Germany, and Piscine Global, in Lyon, under its exhibitor belt; the iconic brand will now be turning its attention on ramping up promotion to the British market by showcasing its Wellness at Home range of exclusive hot tub products and personalised capability features in Hall 10 at the Birmingham NEC from January 22 to 24.
One of the key features of Villeroy & Boch's design technology promotion, during the three-day trade and consumer exhibition, will be the exclusive user-friendly and pipework-free JetPaks functionality featured in the WhatSpa? Best Buy Award-winning six-seater A7L model that comes in at 224 x 224 x 91cm, which can be removed at the touch of a button.
Representatives for the brand will also providing the promotion for Villeroy & Boch's new colour options and unique features for the latest 'Premium Line Colour Edition', along with new seating capability arrangements in the 'Just Silence' design; which were launched at the end of last year.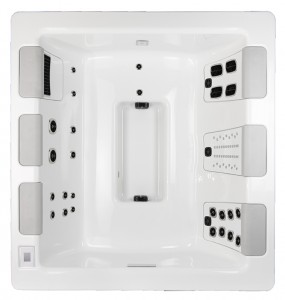 Villeroy & Boch has introduced the 'Just Silence' design, pictured, for 2015 as a flexible solution to help sooth sore muscles or as a calming wellness retreat after a hard day. It has been produced to cater for the tastes of the European market with an understated and simple appearance, plus a minimalist colour scheme.
A distinctive feature, though, is the new arrangement of the seats that allow five people to sit opposite from each other, while allowing them to stretch their legs comfortably. The new touchscreen display, meanwhile, has been introduced to the 'Just Silence' to allow users to individually select massage functions with the JetPaks II technology.
Following on from its 'Black & White' Premium Line stablemate, the 'Colour Edition' allows owners to personalise the combination of different exterior panelling choices with interior shells; along with individual JetPaks. It has been introduced by Villeroy & Bock to meet the growing two-colour design purchasing trend, while providing an extremely durable hot tub for retailers to tempt prospective customers.
The newly launched designs are currently being promoted by Villeroy & Boch wet leisure specialist dealership Waterstream, run by award-winning retail duo Alex Kemsley and Simon Dickson who will be promoting their flourishing Compass Pools UK product range association for the second time as an exhibitor at the UK Pool & Spa Expo on Stand 420.
"Visitors to the UK Pool & Spa Expo will see our high-quality outdoor hot tubs with unique options for customisation with regard to colours and functions," said Villeroy & Boch Global PR Manager Katrin May.
"Another special feature of the new spa model is the arrangement where five people can sit in front of each other.
"Only from Villeroy & Boch hot tubs can you individually select the type of jets, colour and shape as well as additional options and accessories to customise your hot tub."
If you are interested in becoming one of the UK's select exclusive specialist dealers for the brand then visit the Villeroy & Boch display area at the UK Pool & Spa Expo on Stand 135 or email your details to infohottub@villeroy-bock.co.uk
UK Pool and Spa Expo 2015 opening hours for the first two days of the show, on January 22 and 23, will be between 10am to 5:30pm for trade only visitors. On Saturday, January 24, the third and final day of the UK Pool and Spa Expo is the dedicated Consumer Day that will be staged between 10am and 3pm for exhibitors in Hall 10 to meet with members of the public as well as trade representatives.
www.ukpoolspa-expo.co.uk