Virtual technology spearheading summer promotions
Consumers are being provided with convenient ways of digitally viewing potential hot tubs thanks to new capability that has been created by experienced wet leisure product distributor Aqua Warehouse Group.
Essex-based Aqua Warehouse Group (AWG) has launched an online showroom at www.reefspasvirtualshowroom.co.uk to compliment the recently-launched Reef Spas 3D Visualiser that allows prospective owners to gain showroom-style product knowledge briefings before then accessing additional technology for a glimpse of how one of the WhatSpa? Best Buy Award-winning brand's flourishing hot tubs can be positioned in their garden.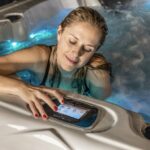 AWG chief Richard Hart believes the virtual showroom and augmented reality technology will enhance traditional showroom sales activities by allowing consumers to immediately access product information at any time of day or night and then transfer a picture of one of the Reef Spas models, including the Sumatra and Kiribat that have helped to achieve a brace of 2022 WhatSpa? Best Buy honours and the new compact but spacious Futuna, into a location of their choice.
"We're really excited about our new virtual showroom as it is a great tool to enhance sales," explained Richard.
"It will help prospective customers use their digital devices to gain an instant futuristic showroom experience and then they can use the Reef Spas 3D Visualiser to get an actual idea of how a hot tub will look in their garden."
Along with the Reef Spas models, which have user-friendly control capability, pictured, AWG has been ramping up the summer sales and marketing promotions for its Vita Spas, Whirlcare and Hanscraft options, along with Covana automated cover systems for hot tubs and swim spas and the Ramanso Pergola designs plus Sizzler BBQ options, after hosting its most successful dealer conference.
"It was our best attended dealership event yet," reported Richard.
"We feel incredibly lucky to have such an amazing network of partners in the UK and worldwide."