Vista Spas chief doubles turnover
Multi-brand retailing specialist Mark Anthony has doubled sales this year during his company's 30th anniversary after making the bold decision to launch the new Vista Spas brand to the market at his three showrooms.
Mark has been reaping the rewards of building solid wet leisure retailing foundations in the past three decades with a 100 per cent sales increase success during the past 12 months at a trio of sites; including his Dordon-based A5 Spas headquarters in Warwickshire, the Pennells Garden Centre in Lincoln and the latest showroom site at the Albert Bygrave Centre in St Albans.
As well as specialising in Canadian and USA pedigree hot tub and swim spa models from Coast Spas and Dimension One, Mark and his family-run A5 Spas dealership team have their own dedicated USA manufactured Vista Spas range.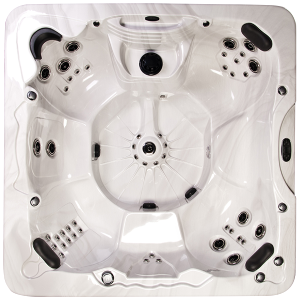 The Vista Spas range has achieved a 2014 WhatSpa? Best Buy for the seven-seater York model, pictured; which comes in at 229 x 229 x 94cm, and has been acclaimed as providing 'an excellent massage for all bathers' and 'a spec that is more commonly seen in much more expensive models' in its second year in the market.
It has been promoted this year to consumers with an inclusive free holiday as part of the purchase deal, which has also been available on The Bristol, a seven-seater Vista Spas model that comes in at 210 x 210 x 91cm. Other Vista Spas stablemates include The Salisbury, which comes in at 229 x 229 x 94cm and has a lounger seat and capability to accommodate eight people; as well as The Oxford, which comes in at 210 x 210 x 91cm and also has a lounger seat and can seat seven people.
Vista Spas design features include the Vista Spas Physician Designed Zone Therapy and Vista Spas Automatic Self-Cleaning Spa Care System. The WiFi-controlled Spa System provides user-friendly functionality; while the Pleatco Clear Water Vista Filtration, Balboa Clean Self-Cleaning Water Purification, powerful Vista Pumps, and the Go-Green 100 Per Cent Energy-Efficient Insulation help owners to enjoy hassle-free use of their Vista Spas hot tubs.
Along with pedigree hot tubs and swim spas, A5 Spas specialise in supplying above-ground and in-ground swimming pools, including the British-manufactured Sunsoka wooden pool range. The dealership also supplies the Sunsoka saunas; as well as a range of thatched, cedar and ultrawood gazebos, cabins and BBQ huts.
"It's been an amazing year and we are 100 per cent up on our sales totals from 2013," reported Mark.
"While we have continued to have great success with the exceptional Coast Spas and Dimension One Spas brands, for us the Vista Spas range has been phenomenally successfully this year.
"We have created our own brand that is now providing consumers with the opportunity to purchase a hot tub with the best of the best quality components, including Balboa parts, at a very competitive price. It has really proved to be a strong sales performer this year to help us attract customers searching for a quality entry-level budget hot tub."
Mark was presented with the Coast Spas Customer Service Award at the Coast Spas International Dealer Meeting in January and capitalised on this success by doubling sales. He reported that during the bumper year of hot tub sales consumers have been taking up the option of a ten-year finance scheme with the peace-of-mind security of being backed by Barclays Bank, as well as a Buy Now Pay Later scheme and an Interest Free option.
"Our current finance scheme by Barclays Bank is proving popular because it provides a ten-year financing option on a hot tub purchase," said Mark.
"That means we have to maintain every tub that is purchased under that scheme for the entire ten-year period. If not we have to repay all of the purchase money back to the customer.
"This is our commitment to our customers and that is why we are confident that they will continue to come to us because they trust our business ethics."
www.vistaspas.co.uk