Vita Spa reporting record sales at Piscine Global
Vita Spa will be highlighting another year of bumper record-breaking UK sales to prospective dealers visiting the Piscine Global international wet leisure showcase this week.
During the four-day Piscine Global showcase, running from tomorrow until Friday, November 21, at Eurexpo Lyon, exclusive Vita Spa UK distributor and Aquawarehouse Managing Director Richard Hart will be promoting the manufacturer's enhanced energy-efficient hot tub models in the 100, 300, 500 and 700 series; as well as promoting options for retailers to target new customers in the expanding swim spa market; on Stand 4C52.
This year Richard and his dealer network in the UK have surpassed last year's record-breaking 40 per cent increase in sales after Vita Spa gained a 'nap hand' of WhatSpa? Best Buy Awards, following five consecutive years of acclaim for the five-seater Elegant that comes in at 211 x 200 x 94cm and is viewed as excellent value in the sub-£5,999 price bracket.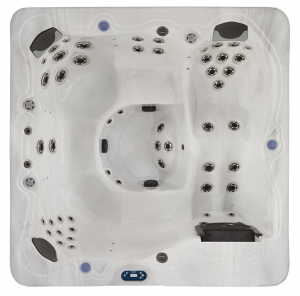 The USA manufacturer has also received its first WhatSpa? Best Buy for the six-seater Prestige, which incorporates a lounge seat, in the £6,000 to £7,999 price band. In the WhatSpa? Verdict of the 500 Series hot tub model, it is highlighted as being: 'Jam-packed with a multitude of jets in every seat to ensure maximum hydrotherapeutic value. The bucket seats are deep and spacious and the lounger is a must-try if you love to lounge'.
Another first has been WhatSwimSpa? Best Buy Award recognition in the £15,000 to £22,499 price category, for the Vita Spa XSP. Aimed at consumers wanting a quality swim spa model under the £20,000 price bracket, it comes in at 5.01 x 2.28 x 1.35m and is the big brother of the XL4. Both are manufactured with the same heavy-duty steel subframe and Vita's energy-efficient environmentally-friendly recycled insulation, which both have 'Lifetime Warranty' policies for retailers to promote to their prospective swim spa customers.
In the WhatSwimSpa? verdict the XSP, which incorporates two spa seats and 24 hydrotherapy jets, was proclaimed as being: 'A worthy winner that offers great value for money'.
"We have had another tremendous year of sales that have helped us to surpass our 40 per cent increase that we achieved in 2013," said Richard.
"All of our dealers in the UK have performed well and we will be promoting this at Piscine 2014 and also during our third appearance as an exhibitor at the UK Pool and Spa Expo in January."
Richard will be on hand to provide details about the complete Vita Spa hot tub and swim spa product range, plus opportunities for prospective retailers, on Stand 4C52 during Piscine Global. Opening hours for visitors will be 9am to 6pm on Tuesday and Wednesday, November 18 and 19, and on the final day of the exhibition, Friday, November 21.
On Thursday, November 20, the exhibition is open from 9am to 9pm; which is going to be including the Evening Party of the exhibition, with last entrance for visitors at 7pm.
www.vitaspa.co.uk