Warning to hot tub holiday market
Leading retailers and BISHTA are warning businesses within the thriving hot tub holiday market about the dangers to the health and safety of their customers from purchasing poor quality models that are not HSG282 compliant.
Organisers of the Holiday Park & Resort Innovation exhibition at the Birmingham NEC have been alerted to this problem and have vowed to take action to prevent their showcase from being used as a platform to promote hot tub designs that are not suitable to comply with HSG282 guidance. From the 2020 edition onwards the organisers will enforce a strict policy for exhibitors to only display HSG282 compliant models that are suitable to be used in a business setting by hot tub holiday businesses.
Award Leisure, Jacuzzi UK, Marquis and RotoSpa joined BISHTA at the 2019 Holiday Park & Resort Innovation show to highlight the importance of purchasing hot tubs that provide HSG282 compliance in accordance with guidance from the Health and Safety Executive and to warn owners of holiday parks, holiday cottages and holiday lodges to avoid any hot tubs that are unsuitable for 'business use'.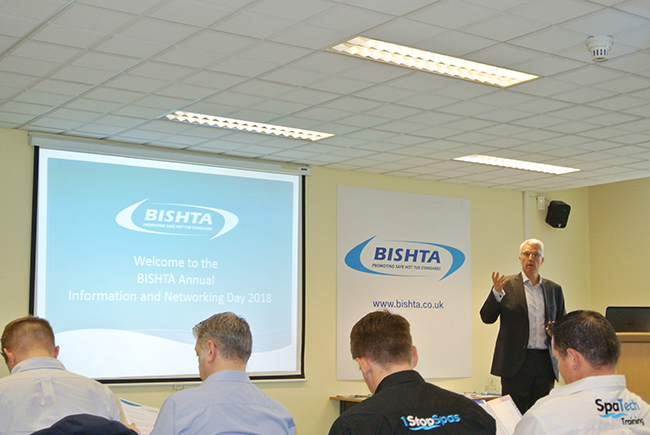 BISHTA Managing Director Chris Hayes, pictured standing, was on the event's seminar list for a successive year and on the BISHTA Exhibitor stand, after appearing at the earlier 2019 Glamping Show at Stoneleigh Park in Warwickshire, to increase the awareness of HSG282 and the requirements of holiday hot tub businesses to adhere to the Health and Safety Executive's guidance.
"We were inundated with enquiries from various types of businesses in the holiday accommodation industry, asking about training, BISHTA membership and with questions about HSG282 compliance," reported Chris.
"If you are seeking to hire out a hot tub as part of holiday accommodation for your customers then you need to seek out professional suppliers that are providing HSG282 compliant hot tub designs.
"They need to be domestic hot tubs that are suitable for a business setting. There are also problems with using inflatables and Scandinavian wood fired style hot tubs in this market. Our advice is to deal with professional retailers who are supplying hot tubs that are specifically being produced for business use with holiday accommodation hire."
Dan Johnson, who serves the flourishing Marquis dealer network in the UK, has reported that WhatSpa? Holiday Park Best Buy Award-winning fully HSG282 compliant designs. including the Holiday Park Escape, the Holiday Park Getaway, and the Holiday Park Relax, have proved to be a big hit in the holiday park market. But he has his own example of how a poor hot tub holiday experience can provide poor reviews and loss of bookings.
"We're seeing some examples of suppliers trying to gain extra sales this year by targeting the hot tub holiday market with standard domestic hot tub models," divulged Dan.
"This is really worrying because manufacturers like Marquis have developed specialist holiday park designs that are fully HSG282 compliant, but businesses in this market are being duped to purchase cheaper or non-complaint models that are not fit for the hot tub holiday trade.
"When Marquis has taken the initiative to produce holiday park hot tubs dedicated for this market it's very frustrating and annoying to see suppliers jumping on the band wagon and trying to capitalise on the growing demand for HSG282 compliant hot tubs with unsuitable options.
"Businesses should do their research thoroughly to gain suitable models that are truly capable of providing HSG282 compliance. They need to avoid the unscrupulous dealers who are promoting standard domestic hot tubs that are not for the holiday market.
"Thankfully, we've been given assurances by the organisers of the 2020 Holiday Park & Resort Innovation show that only HSG282 compliant hot tubs will be allowed to be on display during the event."
Award Leisure was the recipient of the Gold Award for the 'Hot Tubs in a Holiday Setting' category at the 2019 British Pool & Hot Tub Awards and is currently promoting a wide range of outdoor leisure products, including WhatSpa? Holiday Park Best Buy Award-winning Coast Spas and Regency Spas hot tubs, to the holiday park market and has been highlighting the problem of false claims being made about hot tubs from unscrupulous suppliers.
Chris Anthony from Award Leisure has urged holiday accommodation owners to seek out respected WhatSpa? Approved showroom retailers and BISHTA members who can provide top quality products from reputable manufacturers.
"Holiday accommodation businesses should do their research and check where hot tubs are being manufactured," advised Chris.
"We know that there are unscrupulous suppliers who are currently making false claims about where their poor quality and potentially dangerous hot tubs are being manufactured. We need to highlight this problem."
Jacuzzi National Sales Manager Martyn Winstone has been spearheading a sales and marketing campaign to encourage greater numbers of holiday parks to opt for quality HSG282 compliant products from the dedicated WhatSpa? Holiday Park Best Buy Award-winning Jacuzzi Lodge range and J-200 Series for high levels of return on their investments.
"Our customers know how important it is to purchase quality products that will provide HSG282 compliance and high levels of profits from satisfied hot tub holiday customers," reported Martyn.
"All age groups are wanting to indulge in hot tub luxury while they are on a break in this country and that's why we're experiencing increased demand for our Jacuzzi products from the holiday park trade."
RotoSpa was the previous winner of the BISHTA Gold Award accolade for the 'Hot Tubs in a Holiday Setting' category at the 2018 edition of the British Pool & Hot Tub Awards and the manufacturer's Sales Manager Jason Smith has reported that the WhatSpa? Holiday Park Best Buy Award-winning West Midlands-based company has continued to receive consistent levels of orders from the holiday park sector and is positive that sales of HSG282 compliant products will continue to perform well throughout 2020 as the staycation boom continues.
"The presence and experience we have in this market is being reflected by our consistently strong sales levels," said Jason. "Our rugged designs are perfect for this market and in 2020 I believe more customers will be seeking to purchase from us because we are a British manufacturer." .
1 Stop Spas Managing Director Chris Brady, who runs the thriving SpaTech Training scheme, has helped to instigate the dedicated range of HSG282 compliant Marquis models, and has reported that specialist hot tub training for holiday parks will be officially rolled out in 2020. He also predicted that fast heating technology and user-friendly functionality will be key factors to drive higher sales.
"We've been running some trial versions of the Holiday Park Hot Tub Management course ahead of officially launching this professional training in 2020," said Chris.
"During 2020 I believe there will be greater demand for Marquis hot tubs as we're launching enhanced auto monitoring functionality to complement the innovative heat exchanger technology that can be incorporated into these HSG282 compliant models."
www.awardleisure.com/commercial