Wave of new UKPSE exhibitors
Leading hot tub and swim spa brands will be joined by a wave of exhibitors making their debuts when the fourth edition of the UK Pool & Spa Expo gets underway at the Birmingham NEC.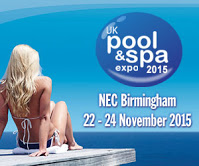 Appearing for the first time at the UK Pool & Spa Expo in the NEC's Pavilion Hall from Sunday, November 22, to Tuesday, November 24, will be: Bo Spas, Brio Group, Crown Pavilions, Cumbria Spas, Desjoyaux, Dr Kuntze, Jo Downs, O-Care, Pool Pod, and Stage Systems.
They will be among a number of UK Pool & Spa Expo stalwarts who have been enticed to return for a unique and historic 2015 double outing of the exhibition; which will now occupy an autumn slot in the wet leisure exhibition calendar to move in line with other European and international events, as well as avoiding a West Midlands clash with SPATEX in the New Year.
The returning group of exhibitors include Aqua Warehouse Group, exclusive distributors of the L.A Spas and Vita Spa ranges of hot tubs and swim spas; and Villeroy & Boch. All three brands have gained 2015 WhatSpa? and WhatSwimSpa? Best Buy Awards to their previous accolades haul after appearing at the third edition of the exhibition at the start of this year.
"Some of the biggest names in the business are supporting the new strategy for the UK Pool & Spa Expo, aligning with the global calendar and creating a UK event to provide the whole of the industry with their requirements," said UK Pool & Spa Expo Event Director Claire Saunders.
Exhibitors at the fourth edition of the UK Pool & Spa Expo, with their stand numbers, are: Aqua Warehouse Group, including Aqua Spa Supplies, L.A Spas and Vita Spa, C10; Bo Spas, B30; Brio Group, C25; Crown Pavilions, F20; Cumbria Spas, C40; Desjoyaux, C32; Doughboy, H15; Dr Kuntze, B12; Hydropool, F21; Hydrospares, H12; ITS Europe, G15; Jo Downs, J6; La Motte Europe, F11; O-Care, D32; On-Site Pool Linings, A20; Passion Spas, D10; Paragon Stainless, H10; Pool Chemical Products, C30; Pool Pod, F12; Portrait Pools, G10; Spa Solutions, C20; Stage Systems, F10; Superior Spas, D30; Swimex, G14; Villeroy & Boch, E10; Vlemmix, E20; Wellis, D20; and Wizard Whirlpools, B10.
Claire reported that continuing the exhibition's residency at the NEC has been a very conscious decision from the New Events organising team with the new Resort World opening this year and believes that the appeal to visitors, and the networking opportunities that are so important at these events, will expand exponentially.
"The UK Pool & Spa Expo is proud to offer the UK an event that both trade and consumer visitors can attend, the event was created after listening to the industry and what they wanted," said Claire.
"Entry to UK Pool & Spa Expo is free of charge, parking is complimentary and there is free wifi throughout the venue. Add to this an international airport, train station and motorway network and the decision is clear to return."
Fourth appearance
Aqua Warehouse Group chief Richard Hart is among an exclusive small band of exhibitors that have appeared at all four of the wet leisure showcases at the NEC, which will be celebrating its 40th anniversary next year of the official opening by the Queen in February 1976.
Richard and his exhibition team will be promoting the continued success of the Vita Spa brand and the newly acquired distributor status for L.A Spas on Stand C10 as well as the Essex-based company's thriving Aqua Spa Supplies service.
The wet leisure powerhouse distributor has been instrumental in the continuing success of Vita Spa, including record sales totals by his loyal band of dealers, and has also recently celebrated achieving a sixth successive WhatSpa? Best Buy Award in the £4,000 to £5,999 price bracket for the five-seater Vita Spa Elegant; which comes in at 211 x 200 x 94cm; and a second successive Best Buy in the £6,000 to £7,9999 price band for the best-selling six-seater Vita Spa Prestige, which comes in at 211 x 211 x 97cm.
Richard has also gained an additional boost for his L.A Spas dealer network with a Best Buy Award in the £4,000 to £5,999 price range for the six-seater Belmar LX; which comes in at 211 x 211 x 89cm and incorporates the unique Aqua Klean washable filtration bags.
Ahead of his fourth successive appearance at the UK Pool & Spa Expo to help extend his formidable presence in the British market, Richard staged his first seminar for the UK's L.A Spas dealers to help highlight future strategies; and also sanctioned a new WhatSpa? advertising campaign to promote the brand to consumers, on behalf of his newly acquired dealer network, with a sales package for the San Juan model for £8,495 with free cover lifter, steps and standard delivery.
 "It's now important that we continue to work closely with the dealers and move forward together," said Richard.
Specialist hot tub cover lifts from Aqua Spa Supplies include the Covana Legend CS 1000. It was heavily promoted during the third edition of the UK Pool & Spa Expo ahead of being featured in the Hot Products section of the 2015 edition of WhatSwimSpa?, which has issued Best Buy Awards to the L.A Spas In-Fit 13 SL and Vita Spa XL4 swim spa models in the under £14,999 price bracket; and Vita Spa XSP in the £15,000 to £22,499 price category.
A whole range of other wet leisure accessories and products from Aqua Spa Supplies will be promoted during the successive appearance at the UK Pool & Spa Expo as part of the Aqua Warehouse Group's strategy to provide a 'one-stop-shop' service to the trade.
"We've got a very good relationship with our customers and they know they have very little to worry about because of the way we run our Aqua Spa Supplies operation so professionally and efficiently," said John Mabey, who is helping to spearhead the success of the Aqua Spa Supplies service having previously been involved in hot tub sales with the Vita Spa brand.
He added: "In the past we may have been one of the best kept secrets in the industry but now we are heavily promoting the fact that we are running a smooth operation for the wet leisure industry to benefit from."
Hot response
Villeroy & Boch representatives will be ensuring the iconic brand's second successive appearance at the UK Pool & Spa Expo on Stand E10 builds on the high-profile recognition for its innovative technology, which gained a hot response from visitors at this year's earlier outing of the exhibition at the NEC.
It also received a WhatSpa? Best Buy Award in the £12,000 plus price bracket of the ninth edition of the consumer magazine, after landing the 'Excellence in Product Design' accolade during the iF Design Awards in Munich ahead of being introduced into UK hot tub showrooms this spring.
As part of its strategy to expand its European network and share of the market, the German company has been carefully selecting pedigree British dealers to swell its number of retail outlets in recent years and believes the five-seater Just Silence model, coming in at 224 x 213 x 86cm, is the perfect addition for showrooms as it encourages shared hot tub enjoyment and relaxation for family members or groups of friends.
"The new seating concept for Just Silence outdoor hot tubs from Villeroy & Boch allows for convivial relaxation as never before," said Villeroy & Boch Global PR Manager Bath and Wellness Katrin May.
"Just Silence allows up to five people to sit staggered across from one another and everybody can stretch their legs. The outdoor hot tub has external dimensions of 213 x 224 cm and has a unique recumbent concept, with up to five spaces for people to lie down."
Katrin also revealed that exisiting and new Villeroy & Boch dealers can also attract consumers who are seeking energy-efficient hot tubs from a pedigree company with iconic status in the market.
"The Villeroy & Boch outdoor hot tubs meet the toughest requirements and they are among the most efficient in the world," said Katrin; "The efficiency comes from full foam insulation and lines which have been shortened by 90 percent.
"As the Villeroy & Boch design places a large share of the lines in the warm pool water, they are protected against excessive cooling. The energy-saving cover helps also protect against heat loss – and not just on cold winter days."
Villeroy & Boch Wellness at Home Manager Dirk Peters has also been enticing prospective dealers with the promotion of the latest additions to the brand's hot tub stable; as well as a new touchscreen display that has been introduced to the Just Silence model to allow users to individually select massage functions with the innovative JetPaks II technology that he helped to showcase during the third outing of the UK Pool & Spa Expo at the start of this year.
"There has been a lot of development and design work involved in the Just Silence production process but we have been overwhelmed by the very high levels of praise for our innovative designs," said Dirk.
Hungary based manufacturer Wellis is another European hot tub brand making a successive appearance at the UK Pool & Spa Expo after showcasing its product lines during the Piscine Forum Pool & Spa Expo in Bologna, Italy, Piscina & Wellness Barcelona, and Aquanale in Cologne.
Superior Spas is now spearheading the promotion of Wellis in the UK and will also be appearing for a second time as an exhibitor at the UK Pool & Spa Expo.
Coming in at 236 x 236 x 86.6cm with three 3HP massage pumps and seating capacity for five people including two lounge seats, the Dabassy was launch to the British market at the third UK Pool & Spa Expo after being dubbed as 'the future of hydrotherapy' by the Wellis design team at the cutting-edge factory in Dabas, which also claims to be Europe's favourite spa producer.
"We've had a very good reception for our Dabassy," reported Wellis Export Sales Representative Dora Beres.
"Visitors to our exhibition stands have told us that the Dabassy is like the Lamborghini of the spa world. We are now looking to target the hydrotherapy market with this new model across Europe to extend our presence even further, which grew 50 per cent last year."
Wellis, in conjuction with Superior Spas, will be providing details of their new partnership and their latest hot tub model on Stand D20 during the exhibition and Export Manager Pal Bihari said: "Now we are the largest manufacturer in Europe and our products are becoming more popular and we are enjoying very high growth in the market.
"We've now built up our stock levels to ensure our dealers in the UK and throughout the continent gain a big advantage of being able to get quick deliveries."
Dutch hot tub and swim spa specialist Passion Spas will also be using a successive appearance at the UK Pool & Spa Expo to highlight new models and expand its British dealer network on Stand D10 and gain additional interest in its ever increasing product lines and swim spa technology.
"We've gained a lot of interest in our swim spas throughout Europe and we are constantly expanding our range to give our dealers and their customers a much wider choice," said Passion Spas founder Dolf Nieland.
"For those dealers who have not yet got into swim spas I would urge them to consider doing so. It is a very good business."
Dolf's brother Arno has also been instrumental in helping to increase the swim spa range during major European and USA exhibitions in recent years and believes the explosion in demand for home owners wanting to invest in a swim spas has been as a result of dealers promoting them as being ideal for health and recreational purposes for members of the whole family to have their swimming requirements fulfilled in their own garden.
"It's a whole other market that hot tub dealers should be looking to take advantage of," said Arno; "People are preferring to do more with their homes and invest in a swim spa."
After missing the previous UK Pool & Spa Expo, Hydropool is returning to the exhibition to highlight its hot tub and swim spa range on Stand F21 ahead of an appearance at the Ideal Home Show Christmas exhibition in London from November 25 to 29, after exhibiting at the recent Manchester edition of the festive showcase.
The Canadian manufacturer, who has also appeared at the Ideal Home Show, Southampton Boat Show, Grand Designs Live Birmingham, and Ideal Home Show Scotland this year, has gained 2015 WhatSpa? and WhatSwimSpa? Best Buy Award plaudits for the 700 Platinum and AquaTrainer 19 DTFX in the respective hot tub and swim spa consumer magazines to add to its previous credits and historic status in the UK market.
After attending the first two UK Pool & Spa events as an exhibitor, with brand ambassador Sharron Davies appearing on the Hydropool stand to help promote the manufacturer's swim spa range at the second edition that was also hosted in the Pavilion venue of the NEC in 2014 when Hydropool UK Managing Director Jonathan Bunn reported that he had just achieved his best ever performance at the Boat Show.
Hydropool has taken advantage of the opportunity of an additional outing for the UK Pool & Spa Expo in 2015. The brand was among the initial batch of hot tub companies to immediately sign up following the announcement earlier this year that the dates had been moved to come in line with the global diary of wet leisure industry trade shows and will be appearing on Stand F21.
As well as WhatSwimSpa? Best Buy accolades for its swim spas, including the AquaTrainer 19 DTFX, Hydropool UK has gained substantial ground in the swim spa market thanks to the long-running relationship with Sharron
"The relationship with Sharron works really well and over the years we've gained some really good benefits with our swim spa sales," reported Jonathan.
"Sharron still has a high-profile and we use it to our advantage in our showroom and during exhibitions, because she is so well known for her swimming and TV work."
Hotel choice
While many hot tub and swim spa retailers will be attending the UK Pool & Spa Expo for just one day, due to the close proximity to their showroom locations and easy access to the NEC, others may wish to take advantage of accommodation at one of the 30,000 West Midlands hotels.
For the ultimate convenience while attending multiple days of the exhibition's fourth instalment at the NEC, visitors will be checking into one of the many rooms at the onsite CrownePlaza. To make a reservation call 0121 781 4031/4029 or email: necroomsales@ihg.com
There is also accommodation available in Kenilworth, which is only ten miles from the NEC and UK Pool & Spa Expo visitors will also be considering this option as it provides convenient travelling times to the exhibition as the route to the host venue goes against the rush hour traffic. Choices include the Grand Hotel, which is situated on the main Warwick Road, as well as the Best Western Peacock, Milsolms Kenilworth, and the Woodside Hotel.
Night owls and those wanting to sample the many restaurants, bars and clubs in Birmingham can also opt for the Jurys Inn or Copthorne Hotel, which are both located in the heart of the city to allow visitors to sample the nightlife.
Travel options
Once again visitors to the fourth UK Pool & Spa Expo will be able to take advantage of convenient links to the NEC for all forms of travel, which are highlighted at www.thenec.co.uk/travel
If you are travelling by car there is free parking available, which has been paid for by the exhibition's organisers. Motorists travelling from any direction can use the M1, M5, M6, M6 Toll, M40 and M42 motorway networks.
Birmingham International Airport (BHX) is within very close proximity to the NEC. Once you leave the airport, the journey time will only take minutes before you arrive at the exhibition's doorstep.
There is also a 900 bus service, which generally has a journey time of 31 minutes, which provides additional transport to Birmingham International Station. The 38 bus service leaves from Moor Street Interchange hourly and there is approximately a 60 minute journey time to Birmingham International Station.
If you are planning to travel by train there is a new opportunity to take advantage of the discount policy between the NEC Group and Virgin Trains to gain a 25 per cent discount reduction on Virgin Trains' Advance fares. Confirmed UK Pool & Spa Expo event registration details will need to be produced when requested, along with the train ticket, for the discount to be valid.
A free shuttle bus service also runs continuously around the NEC site, which has 22,000 car park spaces. Organisers have ensured that free car parking will also be available for visitors to the UK Pool & Spa Expo. Just follow the signs to take advantage of one of the free spaces.
Opening hours
The UK Pool & Spa Expo Consumer Day, which will be staged on Sunday, November 22, will be open from 10am to 5pm. The first of two trade days on Monday, November 23, will run from 10am to 5pm, and the final day of the exhibition on Tuesday, November 24, will commence at 10am and close at the earlier time of 4pm.
Hot tub and swim spa giant Marquis, who appeared as an exhibitor at the third UK Pool & Spa Expo earlier this year before gaining WhatSpa? Best Buy Awards for its four-seater Spirit and five-seater Ultimate Epic; and a WhatSwimSpa? Best Buy Award for its ATV (Aquatic Training Vessel) Ultimate; is among the main sponsors of the UK Pool and Spa Expo Awards night being hosted for the fourth consecutive time in conjunction with the exhibition at the Birmingham venue.
The second awards ceremony of 2015 is being held after the first Trade Day on Monday, November 23, in the Vox at the NEC from 5:30pm. Categories will include hot tub design, swimming pools, swim spas, management and refurbishment and will also honour representatives from the industry.
Online voting accounts for 40 per cent of the overall vote, and voting by the Judging Panel, made up of industry representatives, accounts for the additional 60 per cent of the vote. At the judges' discretion, any number of awards at multiple levels will be presented in any category.
For further information about the UK Pool & Spa Expo contact the New Events organising team on +44 (0) 1483 420 229.