Wellis to launch new model at UKPSE
Wellis, Europe's largest spa manufacturer is launching a new premium domestic spa model this month at the UKPSE in Birmingham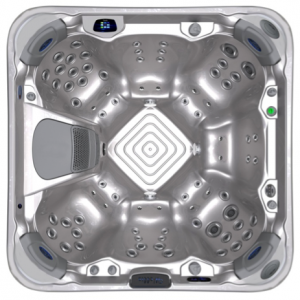 .
The Elbrus Premium from Wellis of Hungary is a mid-sized (2.18m) 7-seater spa that fits below the Kilimanjaro and Everest flagship models.
Wellis are renowned for their high technology manufacturing and this model features easy control from any seat via an icon based touch screen – plus 2 auxiliary panels, 9 bespoke massage programmes from the "Pulsar" system, the awesome 5 speaker "AquaSOUL" Bluetooth Wi-Fi audio, plus the convenience of Balboa's Smartphone remote control.
The Elbrus has 76 jets powered from three dedicated massage pumps. Filtration is by two anti-microbial cartridge filters via a low energy eco-circulation pump.  A hallmark of all Wellis spas is their exceptionally quiet running as a result of isolated pump and shell mountings and super efficient plumbing.  Now even the universal air bubbler "vacuum cleaner" whine has been banished thanks to a specially commissioned German built silent and heated system.
Wellis Spas contain no organic materials, the perimeter frames are polymer composite whilst the cabinets are maintenance free. A moulded floor pan keeps the damp out and the whole assembly is insulated with 40mm reflective foil. Most impressive is the exclusive Wellis 4 layer robotically produced acrylic/ABS/polymer shell that provides extreme strength yet is light and thermally, as well as acoustically insulated.
Wellis have achieved the highest internationally recognised quality standards – all their spas carry the German TUV certification.
With its high technological and ecological design, premium build components, very competitive pricing and fast delivery times from their European manufacturing plant, Wellis expects a high demand for the Elbrus Premium.