Welsh Hot Tubs bathed in glory
Welsh Hot Tubs, based in Aberystwyth, Ceredigion, is celebrating after winning two awards at the prestigious British and Irish Spa and Hot Tub Association (BISHTA) Awards, held last week at the Ricoh Arena, Coventry.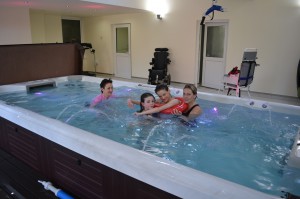 The winning gold award was given to Welsh Hot Tubs for 'How My Hot Tub Changed My Life', this award provides the opportunity to really focus on the health benefits of hot tubs and the enormous impact they have on peoples lives and those around them. Welsh Hot Tubs are worthy winners, having worked with their clients; parents of a 13 year old child with Cerebral Palsy, who is restricted to a wheel chair. She requires two carers at all times.
The Swim Spa (supplied and fitted by Welsh Hot Tubs) is used everyday by the young teenager for physiotherapy and exercise. Her parents say that it has transformed their daughter's life, along with the whole family and they believe that through using the Swim Spa their daughter (with the addition of a buoyancy aid) has for the first time ever, been able to walk. The hydrotherapy sessions have also benefited her interaction with her sisters and other family members.
Welsh Hot tubs have done a fantastic job of translating all of the client's needs for health and safety into the build and installation, working with the architects, clients and even the health care workers throughout, to ensure every stage and every piece of added equipment had tremendous thought and consideration.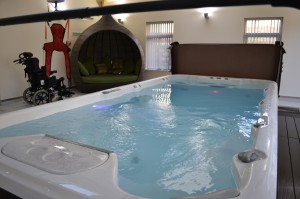 As well as this win, Welsh Hot Tubs were awarded the runners-up prize for Swim Spas and Exercise Pools in recognition of the build and installation of this Swim Spa, which perfectly fits the customer requirements and its surroundings.
Steve Baxter from Welsh Hot Tubs Said: "We are thrilled to be recognised at the BISHTA awards this year, especially alongside such worthy contenders. Winning the award for 'How My Hot Tub Changed My Life' was a fantastic win for us personally, as it outlines how our work has touched our client's life, we also scooped the runner-up prize for Swim Spas and Exercise Pools, both awards are a great acknowledgement of our entire team's hard work."
The awards event, organised by the British Swimming Pool Federation (BSPF) brings together BISHTA and SPATA to highlight the achievements of the wet leisure industry by showcasing the best examples of construction, design, installation and innovation.