Welsh & Lions Rugby Captain Alun Wyn Jones splashes down at Castle Hot Tubs Showroom
Established by the Koob family in Pembrokeshire in 2003, Castle Hot Tubs is a specialist hot tub and swim spa retailer with showrooms in Haverfordwest, Bridgend and Swansea, growing from comparatively modest origins to becoming the biggest hot tub and swim spa supplier in Wales.
They retail hot tubs by Aspen Spas, Be Well Spas, Superior Spas and Platinum Spas plus their own Huatulco and Pembrokeshire ranges, covering South & West Wales and the surrounding areas. The company is now made up of 26 staff members ranging from administration and customer service staff to delivery teams and engineers. "The decision was taken that we would only sell hot tubs into areas that we could comfortably cover to ensure that our service is fast and professional," explains Sally.
With this in mind, the company now has three showrooms in Haverfordwest, Swansea and Pyle with a fourth showroom in the pipeline for the end of this year. This gives the team scope to cover all of the M4 corridor from Pembrokeshire in the west to Cardiff and up as far as The Valleys. Says Sally: "I believe the key to success is most definitely a combination of strong leadership, now in the hands of our son Yan, being surrounded by an amazing team of knowledgeable people and laughter, lots of it! "We do not set sales targets or practice any sort of pressure selling, people come to us because they know that they will be treated well and looked after, not just during purchase but for the life of the spa, our biggest marketing tool is word of mouth," Sally continues.
Back in 2003, when Castle Hot Tubs were first established, they took the decision to remain independent dealers. "That has served us well over the years, allowing us to offer a whole range of products to suit every budget," Sally reflects. "The last 18 months has brought about plenty of opportunities but also many challenges, with supplies being interrupted and parts being in short supply, we even had to close down completely for a few days due to a member of staff actually testing positive for Covid 19."
In 2006, Sally and Dieter were given the opportunity to become the UK and Ireland distributor for the environmentally friendly water treatment product AquaFinesse. This part of the business has grown year on year and continues to blossom. "Over the years we have sold many spas to famous faces, but I have to say, being a huge rugby fan – well, I am Welsh after all its almost written in law," jokes Sally. "When rugby star, Alun Wyn Jones, walked into our Swansea showroom, in all of his splendour, you could have knocked me over with a feather! Alun Wyn originally bought a spa during the first Lockdown. Due to the long waiting list Castle gave him a tub on loan until his preferred choice came into stock.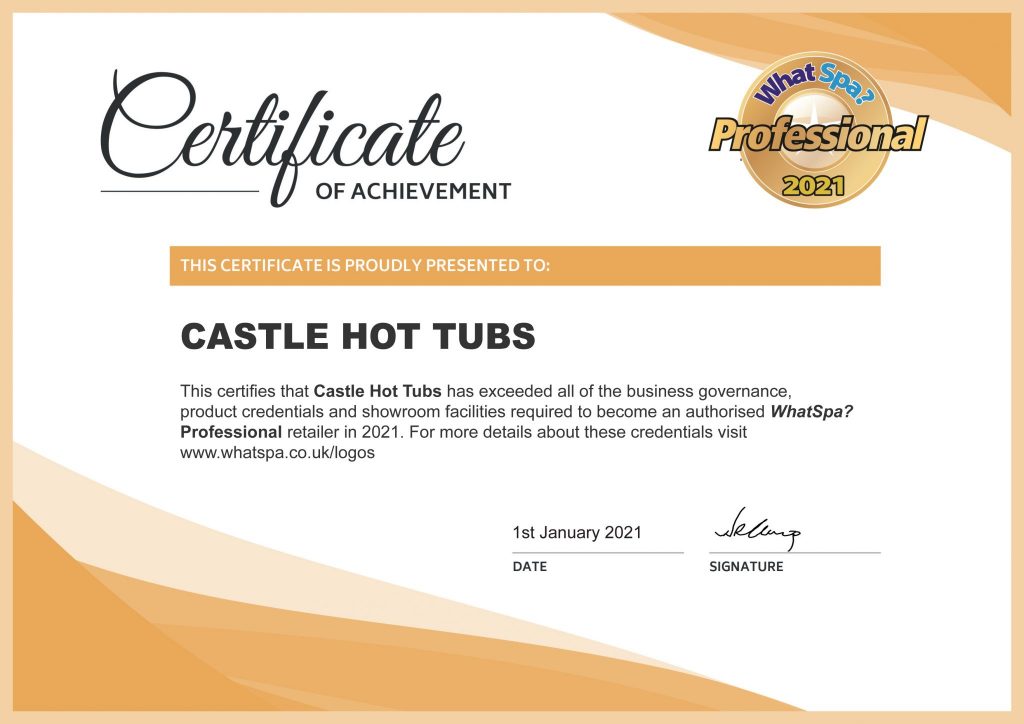 He said having the hot tub during the last year was a life saver as they have been unable to use the hot tubs at the normal training facilities. "We joked in the office about 'drawing lots' to be on that particular delivery," laughs Sally. "What a gentleman he is, and so grateful for the relaxation and therapy he now gets from his spa. We all wish him well following his unfortunate injury recently."
Castle Hot Tubs are an authorised WhatSpa? Professional Retailer in 2021, and we are hugely excited by the amazing growth they have achieved over the course of the last decade. For more information, visit or call the Castle Hot Tubs team at the telephone number or website below:
Castle Hot Tubs
Tel. 01348 840509
info@castlehottubs.co.uk