Aiming for hot tub retailer donations
A water treatment product specialist is hoping donations from hot tub and swim spa retailers will help to raise valuable funds for the RFU's Injured Player's Foundation following a charity rugby match at Twickenham.
As previously reported, Water Treatment Products (WTP) Leisure Division Managing Director James Lee is appealing for cash donations from the wet leisure industry after taking to the hallowed Twickenham field with team members from the Newark and Southwell Rugby Clubs.
James and the other participants in the Twickenham match, which resulted in a victory for the gents of Southwell over the Newark veterans, are hoping their efforts will raise awareness and funds to increase the IPF's commitment to enhancing the lives of injured rugby players.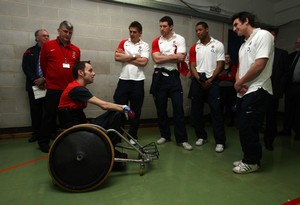 Through its charity, which was formed in 2008, support is provided for over 130 players who have been catastrophically injured through rugby, along with playing a valuable role in the prevention and management of injuries.
Previously, in 1993, SPIRE (Support Paraplegics in Rugby Enterprise) was created by the then President of the RFU Ian Beer to help out when catastrophically injured players were having difficult times. Since its creation, the major donor has been the RFU, although donations have come from all levels of the game.
The SPIRE capital fund has gradually been built up and invested to provide a sustainable income, which has been used to provide grants to the ex-players. Through SPIRE hundreds of grants have been made over the past 15 years.
 As part of the Catastrophic Injury Review conducted by the RFU in consultation with all levels of the game, the care for injured rugby players has been changed. Then Director of Finance, Nick Eastwood, helped inspire this change with the creation of a dedicated team based at Twickenham within the Community Rugby Department, to provide support and help to all players; current, future and past who may be so injured.
This became the RFU Injured Players Foundation. SPIRE changed its name and transferred its capital fund to the IPF, the charity being run by a new Board of Trustees. The new Board was formed from the Trustees of SPIRE and new Trustees appointed by the RFU, which include experts in spinal rehabilitation. The IPF now incorporates the former SPIRE Rugby Trust charity, with John Owen as the IPF Chairman of Trustees and Dr. Mike England as Medical Director.
For a seriously injured player, remaining a central part of a family that has been there through thick and thin is fundamentally important.  That has been the case of Ben Smoldon, aged 39, who suffered a broken neck playing for Sutton Coldfield Colts when he was 17.
Since then, with support from his family, friends and the IPF, he has lived a full life made possible by his determination and the funding of specialist equipment that has kept him active.
So active, in fact, that, as chairman of Sutton's playing committee, he was nominated to be an Olympic torch bearer ahead of the 2012 London Olympic Games by club chairman Geoff Fletcher, to cover what Ben called 'the best 300 metres of my life'.
Geoff's citation said: "Ben has dedicated his last 20 years to serve the community in any way he can. Selflessly volunteering his time to the club he loves.
"He has immense gifts, his courage supports and enriches the lives of all of involved with the club and his passion inspires all, especially young people."
Ben's father Roger, who died ten years earlier, would have been proud of his son's achievements.
"He was a role model and a massive inspiration for me," said Ben. "He encouraged me to lead as full a life as possible despite the situation I was in."
With IPF help, Ben has now became a father himself to twin sons, Toby and Oliver.
"I remember being in tears with my parents and saying, at 17, that I would never be able to bring them grandchildren," divulged Ben.
"Since then I realised that there were possibilities of having children. Claire and I had six failed IVF attempts and we wanted to give it another go. I contacted the Injured Players Foundation, to ask whether a small grant would cover IVF treatment.
"I rang on the Monday and by the end of the week we had a cheque through the post. This time the IVF treatment worked. Our twin boys keep me very busy. Every day is different. It's great being able to share their lives as they grow up."
James Lee is now hoping that the publicity surrounding the Twickenham match to raise funds for injured rugby players like Ben will inspire members of the wet leisure industry to make cash donations to the IPF at the Just Giving website link at:
 www.justgiving.com/Newarkrufc-Commons-Lords-fundraiser/?utm_medium=email&utm_source=ExactTarget&utm_campaign=20160314_58137
"Please visit the dedicated Just Giving link and give generously. Thank you in advance for your support." said James.
www.watertreatmentproducts.co.uk