All go for 'Green' SPATEX
Hot tub product specialists are all set to go to the 'Green' SPATEX 2020 and be part of an unmissable environmentally-friendly wet leisure showcase with a bumper crop of WhatSpa? and WhatSwimSpa? Award winners.
Ahead of the doors opening to the Ericsson Exhibition Hall for the 24th edition of SPATEX this week at the Ricoh Arena in Coventry, from Tuesday, January 28, to Thursday, January 30, there has been significant preparations by organisers and exhibitors to ensure that the showcase will have a 'spa-tacular' appeal as part of a dedicated environmentally-friendly 'Green' theme for those in the hot tub and swim spa industry industry as they mingle with their pool industry counterparts during the three-day showcase that incorporates new additions covering planet-friendly topics on the large list of the three-day seminar schedule, organised by the Institute of Swimming Pool Engineers (ISPE).
Top of the agenda as part of the 'Green' theme is saving energy and lowering operational costs. This year's outing aims to lead the way in showing how it is possible to be more energy-efficient and environmentally-friendly in the future.
As well as advanced insulation from leading hot tub and swim spa brand suppliers, there will be a greater emphasis on the latest innovations supporting a low energy, low carbon footprint; such as inverter heat pumps and variable speed water circulation pumps, as well as environmentally– friendly hot tub filter cleaners, an above-ground pool made from recycled plastic bottles, and high quality hot tub covers and specialist insulated pool covers.
Following on from successive appearances at SPATEX during the Brighton years, Certikin International has continued to be a major exhibitor presence since the annual showcase moved to Coventry and this time round has five specialist stands to entice visitors wanting to find out more about the extensive product ranges that include superior insulation within the Caldera Spas options from record-breaking hot tub production giant Watkins Wellness that have achieved sustained success in the British hot tub market after gaining annual WhatSpa? Best Buy Award recognition.
Complementing the Certikin Main Stand location will be the CertiDos Stand, the Calorex Stand, the Certikin Autocovers Stand; featuring the best-selling Roldeck slatted cover and the Coverstar safety cover; and also the NIVEKO Stand with a one-piece display pool.
Booming hot tub and swim spa distributor Superior Spas has utilised the SPATEX platform to rapidly boost its presence in the hot tub and swim spa market in recent years and will be another of the main star attractions with WhatSpa? and WhatSwimSpa? Best Buy Award-winning status. Along with its rapidly expanding Superior Spas and Platinum Spas options there will be new designs by USA manufacturer Dynasty Spas to complement the options from Canadian manufacturer Be Well Spas that have also achieved WhatSpa? Best Buy recognition.
American Whirlpool and Vita Spa distributor Aqua Warehouse Group, will also be promoting two USA brands that have gained multiple WhatSpa? and WhatSwimSpa? Best Buy Awards, as well as promoting an extensive range of wet leisure products as part of thriving Aqua Spa Supplies services to the trade.
With a long list of WhatSpa? Best Buy Awards in the bag and extensive exhibition appearances at outdoor events during the past year, Softub UK & Ireland will also be making a successive SPATEX appearance to highlight special 30 per cent discounts on hot tubs, accessories and water treatments, while seeking to stand out from the 'Green' product promotion crowd and build on previous outings with its eco-friendly heating that includes solar panel option functionality.
European heavyweight Wellis has again booked into SPATEX to showcase its WhatSpa? and WhatSwimSpa? Best Buy Award-winning hot tub and swim spa credentials and innovative state-of-the-art designs as part of a big stand presence for a successive appearance at the Ricoh Arena to promote top quality 'Made in Europe' wet leisure products.
Spa Solutions is making a second appearance to build on from its debut at last year's SPATEX that showcases Southern Hemisphere-manufactured hot tub designs and the launch of the futuristic WhatSpa? Best Buy Award-winning Vortex IKON model. The respected distributor has two decades of wet leisure market experience and will again be hoping to entice more British retailers to this option, as well as a wide range of products from multiple USA brands.
WhatSpa? Approved and WhatSwimSpa? Approved specialist retailer of American Whirlpool and Marquis products Chris Brady and his 1 Stop Spas Trade and SpaTech Training exhibition team will also be making a successive appearance to promote a 'game changing' development, as well as a thriving range of top quality wet leisure products; including new UK specification SpaDolly models and Aquaness Treadmill, and HM Digital; as well as the new 2020 details of dedicated training courses for the hot tub industry to complement and extend the qualifications and tuition from BISTHA training courses.
Iconic hot tub WhatSpa? Best Buy Award-winning brand Villeroy and Boch is continuing to make progress in the British market and will be seeking to extend its presence with its enhanced options, including new energy-saving control systems, to entice new dealers from the hot tub sector.
On the water testing and water chemical products front, Lamotte Europe representatives are continuing their run of successive SPATEX appearances and will be among a large number of specialist wet leisure product and water treatment companies who will be hoping to boost their share of the market including: Aquafinesse UK, Complete Pool Controls with a special guest appearance by an Olympic champion, Cranbourne Stone with a new 'Porcelain Stone' range, Darlly Europe with the launch of its tenth anniversary 'Decade of Darlly' celebrations, Heatstar Ltd with 40th anniversary celebrations that include a bottle of champagne for the first 40 visitors to the stand, Lo-Chlor Chemicals, Lovibond Tintometer, O-Care, Spa Parts Vortex, which is launching a new range of 'Earth Spas' at the exhibition, Waterco Europe, Waxman Ceramics with a new spa and pool collection, and Wellisparts.
A dedicated promoting of BISHTA Training Courses and further information about the association and the work of the British Swimming Pool Federation (BSPF) within the booming wet leisure industry will also be available on Stand A1, while ISPE information can be obtained from Stand A21, and Legionella Control Association details can be found on Stand H9. The Water Management Society will also have details of its training and publications on Stand H9.
SPATEX Organiser Michele Bridle, who is marking 21 years of working for the annual exhibition during this edition, has reported that one of the delights this time round has been the booking of larger stands by returning exhibitors who have shown consistent loyalty to the wet leisure showcase since its move from the south coast during the last decade.
"For me, this year's fantastic build-up to SPATEX 2020 has been characterised by so many companies returning and requesting larger stands," said Michele; "This is coupled with a raft of new companies and over thirty spa and spa related companies, including some of the sector's biggest names.
"For those in the spa and hot tub business or anyone looking to purchase, this is a not-to-be-missed show. SPATEX 2020 looks set to be a spa-tacular event!"
For the comprehensive list of exhibitors go to www.spatex.co.uk/exhibitors
Green seminars
Visitors to SPATEX will once again be able to take advantage of the bumper free double ISPE organised seminar and workshop programme and this will also be supporting the 'Green' theme. Talks and demonstrations will, amongst many other subjects, focus on how those in the wet leisure industry can play a part in becoming more eco-aware and in so doing, reduce electricity bills.
With the double seminar programme playing such an integral part in SPATEX's visitor experience, the 2020 Green theme is being extended to the free-to-attend ISPE workshops in Arena I and the parallel seminar programme in Arena 2.
Alongside a raft of many other important and relevant topics, there will be technical and inspirational talks on how those within the industry can all play a part in becoming more active with eco-awareness.
On the first day of SPATEX tomorrow, on Tuesday, January 28, the Arena 2 location will be hosting a seminar on 'Manufacturing more environmentally friendly hot tubs' by Anthony Schneikert from Spa Solutions at 4pm.
The 'Green' theme will also include a talk on 'Energy Savings via the use of automatic valves' by Jimmy Lamb in Arena 1 on Wednesday, January 29, from 1:30pm to 1:50pm.
Later during the afternoon on Wednesday, January 29, Arena 2 will be staging an 'Inspiring your Team to be Green' seminar at 3pm by Darren Waters from Spa Parts Vortex.
"The ISPE SPATEX 2020 programme features at least six sessions with an 'environment-friendly' theme," reported ISPE General Secretary Ross Alcock
"With its ever-changing dynamics and themes, the 2020 edition will offer a multitude of things that will be new, and for those who have been pondering whether to attend SPATEX or not, 2020 has surely got to be the year to give it a go!"
BISHTA MD Chris Hayes, Aqua Warehouse Group chief Richard Hart, and SpaTech Training MD Chris Brady with a training update on the opening day, are also scheduled to conduct seminars during the three days of SPATEX. Further information about all the individual workshops and seminars on every day of SPATEX can be obtained at www.spatex.co.uk/spatex-2020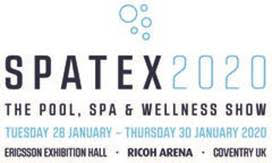 Awards VIP
For the 2020 British Pool & Hot Tub Awards as part of the British wet leisure industry Gala Evening being hosted tomorrow evening, on Tuesday, January 28, at the Ricoh Arena during SPATEX the special 'VIP Guest' is diving Gold Medal-winning Olympian Jack Laugher MBE. He made history at the 2016 Olympic Games by becoming the first-ever Olympic Gold Champion for Great Britain and then followed it up later with an individual Silver Medal in the 3m Springboard making him the most successful British diver ever.
The BISHTA Awards categories are: Residential Hot Tubs Below £7,000 (inc VAT); Residential Hot Tubs £7,000 to £14,000 (inc VAT); Residential Hot Tubs £14,000 and Over (inc VAT); Swim / Exercise Spas; Hot Tubs Change Lives; Hot Tubs in a Holiday Setting; Hot Tub Happiness; Showroom of the Year; and Best Use of Digital Media.
Entry to the Gala Evening and the British Pool & Hot Tub Awards presentation ceremony is by pre-paid ticket only, which includes the pre-dinner drinks reception, three-course sit-down meal, plus entertainment and disco into the later hours of the evening.
Following on from his appearance at the Gala Evening Jack Laugher will also be available to meet visitors as part of the CPC showcase on Stand B34 on Wednesday, from 9.30am to 11am.
Green party
No tickets are required for the subsequent evening event after the second day of the wet leisure showcase when the 'Green' theme will be extended to the now famous SPATEX 'networking party'.
It will commence immediately after the exhibition closes at 5pm on Wednesday and all exhibitors and visitors are warmly invited to socialise with other members of the wet leisure industry who will be encouraged to wear Green hats and take advantage of complementary drinks and nibbles in the Ricoh Arena's Clubhouse Bar.
Free parking
As with previous outings of the exhibition in Coventry, car parking is free for visitors to SPATEX during all three days at the Ricoh Arena.
Direct contact
The SPATEX team will be on hand to deal with enquiries on the help desk and walking round the exhibition hall throughout the three days of the exhibition. You can also contact the SPATEX team via email: michele@spatex.co.uk or helen@spatex.co.uk or directly by telephone on: +44 (0) 1264 358558.
Opening times
SPATEX will be open to visitors from 9:30am to 5pm on the first two days, and from 9:30am to 4pm on the final day, Thursday, January 30.