Awash with hot tubs and energy solutions
SPATEX organisers are proclaiming that the 2023 edition of the wet leisure showcase will be awash with hot tubs and is going to have a strong focus on energy-efficiency.
It has been reported that a third of exhibitors will be displaying spas and associated products during SPATEX 2023, running from January 31 to February 2, which is set to provide visitors with the opportunity to see the latest launches from over one hundred domestic and international suppliers and manufacturers at the award-winning Coventry Building Society Arena venue.
With the vast majority of exhibitor space already sold out the SPATEX team have now declared that this latest outing is not one to be missed, especially as there will be a strong focus on sustainability with the latest innovations that are designed to reduce energy consumption and cut down on the running costs.
"We aim to bring the topic of energy saving into sharp focus and make it a forum for discussion and finding solutions," says SPATEX Organiser, Michele Bridle.
"With education, the latest technological advances and careful management, there are effective ways to significantly reduce energy consumption and bills. It's this positive message that, with the help of our exhibitors and experts, we aim to communicate to our visitors."
Companies new to SPATEX 2023 include Innovators International, Novellini (UK) Ltd, and Rex Nordic UK who will be joined by I Stop Spas Trade and Spatech Training, Aqua Excellent, Aqua Warehouse Group, Aquafinesse (UK), Astralpool UK Ltd, Balboa Water Group, Blue Whale Spa, Certikin Ltd, Darlly Europe, GMT Spas International Ltd, Golden Coast Ltd, HTH-Solenis, ITS Europe, Lo-Chlor Chemicals, Lovibond, Marquis Spas, MSPA UK, O-Care, Paragon Stainless Products Ltd, Passion Spas, Plastica Ltd, Poolstar, SCP UK Ltd, Spa Part Vortex, Spa Solutions, Spaflo Ltd, Sunbeach Spas, Suntrap Systems, Superior Wellness, Water Treatment Products, Wellis Hungary Ltd, and Wellis Parts.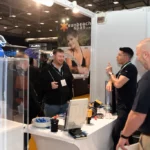 "SPATEX is the first opportunity to view 2023's most box-fresh, technologically advanced products, with many companies offering advantageous show discounts to visitors," divulged Michele.
Organisers have also revealed that SPATEX, with the help of the Institute of Swimming Pool Engineers (ISPE), is busy curating the best free-to-attend, double seminar and workshop programme to date, offering free education and training.
The seminars include critical information, such as new Standards and Guidance, that affect all those who are working in wet leisure facilities, plus the maintenance of hot tubs and spas and the prevention of Legionnaire's. The show's energy saving focus will also be reflected in many of the talks during the three-day event.
On the first day, for example, Will Dando FISPE will be focussing on 'Saving Energy & Water' from 11am to 11.30am. CPD points and certificates of attendance will be issued for all attendees of the ISPE workshops in seminar Arena 1.
"SPATEX is fortunate that many esteemed industry associations lend their support each year, such as BISHTA and SPATA," said Michele Bridle.
"There's no better place to seek advice from an expert, and all for free! Please call in at the SPATEX Help Desk at the entrance to the Arena and the team will be happy to point you in the right direction."
For more information telephone 01264 358558 or email: helen@spatex.co.uk