Beachcomber promotion at SPATEX Virtual
Award Leisure is promoting a new opportunity for dealers to supply Beachcomber hot tubs as part of a dedicated booth at SPATEX Virtual that is highlighting special edition designs from the Canadian manufacturer.
Family-run wet leisure and outdoor product specialist Award Leisure has utilised the online capability of the SPATEX Virtual exhibition hosted on the vFairs platform to highlight a trio of Beachcomber's 2021 Special Edition Hot Tubs, including the 730 SE Hybrid4, which provides user-friendly voice command control capability on Amazon Echo or Google Home devices, as part of promotion for the new status as exclusive UK distributor for the famous brand that is being launched with the roll out of easy set up Silver, Gold and Platinum dealer packages.
As part of its Beachcomber dealer launch promotion, Award Leisure has revealed that all the new Silver, Gold and Platinum dealer packages for its network of Beachcomber retailers will include 'exclusive territory' status, as well as dedicated 'container discounts', and specialist 'marketing support'.
Gold packages, specific for dealer showrooms retailing over 40 hot tubs per year, and Platinum packages, designed for showrooms that annually retail over 60 hot tubs, are also going to benefit from the assistance of web leads to help boost sales. Platinum dealers can also take advantage of funded display stock and point of sale media capability.
As part of the SPATEX Virtual dealer recruitment promotion, the Beachcomber booth is highlighting that ongoing studies and feedback from the Beachcomber Care group has highlighted that the brand has a 98 per cent referral rating from customers. To generate take up of the Beachcomber dealer recruitment campaign, there is also a promise to 'buy back' the investment for any dealers who are not successful after two years of commencement of supplying the brand.
Founded in the 1970's by the Scott family, the Beachcomber brand is acclaimed for its energy-efficient designs and zero tolerance for defects with a 'striving for zero' policy as part of its 'Lifetime Guarantee' assurances, as well as 'RapidShip' and 'Made-to-Order' services for dealers, who can now take advantage of Award Leisure's launch of the dedicated UK retailing packages and promotion of Beachcomber's 2021 Special Edition Hot Tubs (SE) that incorporate up to 150 jetting configurations from the British Columbia-based manufacturer's patented FlexJet technology.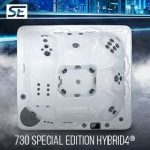 Forged from over four decades of industry-leading experience, the Special Edition Hybrid4 collection includes Beachcomber's six-seater 730 SE Hybrid4, pictured, which comes in at 203 x 224 x 97cm; five-seater 550 SE Hybrid4, which comes in at 203 x 224 x 97cm; and five-seater 350 SE Hybrid 4, which comes in at 203 x 224 x 97cm; hot tub models. These have been designed specifically with generous seating and foot wells with the emphasis on creating a 'perfect home spa experience' by combining style and function to ensure maximum comfort. The 730SE and 550SE models feature a Roman Arch waterfall, while the 350SE model includes a Blade waterfall feature.
Depending on the choice of SE model, Beachcomber has incorporated glowing illumination from the Star Trail LED exterior corner lighting and Crescent Moon handgrip illumination inside the 730SE, as well as the Eclipse lighting inside the 550SE to enhance hot tub hydrotherapy during the evening.
While Beachcomber has retained its founding hot tub manufacturing principles of top quality production integrity, it has now evolved with the inclusion of advanced Voice Command voice activated technology that can be linked to Alexa devices, for example, to complement the Air Connect Bluetooth-enabled wireless sound system and a host of addition Special Edition features that include the Opal Acuralux Acrylic, Ebony Enviroskirt, and Steel Heatshield hot tub cover.
"We started from a pre-assembled tub with plumbing and little finishing to our product today," divulged Beachcomber Hot Tubs Founder and CEO Keith Scott; "A product that still focuses on relaxation and creating private outdoor domains while also connecting family, friends, and loved ones, making the world a healthier and happier place."
During its SPATEX Virtual presence this week Award Leisure has also been promoting its new British Hot Tubs brand of hot tubs and swim spas and the Award Leisure Franchise initiatives that include a choice of Premium Dealership (Limited Availability) or full 'One-stop-shop' Franchise opportunities on offer.
These are being provided by an award-winning supportive team that has a vast experience of the hot tub and swim spa market, as well as associated outdoor products that include outdoor saunas and garden structures.
As part of a presentation in the SPATEX Virtual Seminar area of the online exhibition, the Award Leisure Franchise team has been highlighting that it will take hard work to achieve positive results and the successful impact that the franchise initiative has made on Simon Baggaley of Award Leisure Birmingham, based in Highfield Road, Hall Green, who is featured in the online presentation.
"You are going to have to work hard," declared Award Leisure Franchise chief Mark Anthony; "You don't go home until the job is done."
Registration for SPATEX Virtual is free and takes seconds to complete at: https://spatexvirtual.vfairs.com/en/registration This provides access to the Beachcomber booth and the Award Leisure Franchise booth in the 'exhibition hall' at the SPATEX Virtual platform that is available for 30 days after the 'live' elements of the event conclude today.
www.awardleisurefranchise.co.uk