Beat the rush for tickets
Wet leisure specialists who are members of BISHTA and SPATA are being urged to beat the rush for tickets for the lavish Industry Gala Evening that includes the 2017 British Pool & Hot Tub Awards ceremony.
Once again the Industry Gala and British Pool & Hot Tub Awards ceremony will be hosted in the E-on Lounge at the Ricoh Arena in Coventry and organisers are expecting it to be another sell-out event as it is being held after the opening day of the 21st anniversary edition of SPATEX, which has a new mid-week schedule.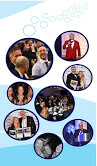 During the evening, on Tuesday, January 31, BISHTA and SPATA will come together for the British Pool & Hot Tub Awards ceremony to promote and celebrate the excellence of their member companies nationwide and overseas. The Industry Gala Evening also provides an opportunity to network with industry peers starting with a drinks reception before a three-course seated dinner.
Following dinner, the British Pool & Hot Tub Awards ceremony will celebrate award-winning entries across the hot tub, swim spa, swimming pool, spa and wellness sectors; along with the re-presentation of the ISPE Awards.
In keeping with tradition, dress code for the event is 'Smart' (Black Tie Optional) and organisers have revealed that entertainment for the evening will have an '80's throwback feel.' with special guest appearances promised to get everyone up on their feet!
At this year's ceremony the BISHTA members who were bestowed with Gold Awards were: Oyster Pools & Leisure, for 'Residential Hot Tub Below £7,000'; Euphoria Lifestyle, for 'Residential Hot Tub £7,000 to £14,000', and for 'Best Website'; North Spas, for 'Residential Hot Tubs £14,000 and Over'; Hydropool UK, for 'Residential Hot Tubs in an Overseas Setting', and for 'Best Showroom'; Castle Hot Tubs, for 'Swim Spas and Exercise Pools', and for 'Best Hot Tub in a Holiday Setting'; and Hot Tub Suppliers, for 'Hot Tubs Change Lives'.
Anita McArthur from Tanby Pools was presented with the Paul Kite Award for the Pool Star of the Year during the SPATA Awards section, while Cresta Leisure landed The Dick Millward Trophy for Pool Contractor of the Year.
The judging process for the 30 categories in the 2017 British Pool & Hot Tub Awards has already commenced and are set to highlight the achievements of leading companies within the wet leisure industry, by showcasing the best examples of design, construction, installation and innovation.
They also provide the perfect gallery for consumers to pick their dream project from trade association-approved companies.  The awards also provide exceptional PR opportunities for companies that win an award.
"We set a high standard for our judges from across both the pool and spa industry to score each entry on visual impression and technical merit," said BISHTA and SPATA Managing Director Chris Hayes.
"This means that an award won at the British Pool & Hot Tub Awards is very well deserved, and ownership of at least one award stands as a strong endorsement to consumers of the standard of work a winning company offers."
Tables of ten can be booked for the Gala Evening, or on an individual basis with tickets priced at £69.95 plus VAT. Call 01264 356210/1 to book tickets or for further information.
Companies wishing to book stand space for the mid-week schedule of SPATEX 2017 should contact the SPATEX team via email: helen@spatex.co.uk or michele@spatex.co.uk or telephone directly on: +44 (0) 1264 358558.