Board to discuss BSPF President's future
High ranking BSPF members will continue the historic debate on the future of their President's role later this month before asking hot tub and pool specialists to vote on the issue next year.
Members of the BSPF (British Swimming Pool Federation) Board are currently due to discuss the issue of the President's future at the BSPF Board meeting on November 27, after highlighting the prospect of change to hot tub and pool representatives who attended their respective BISHTA and SPATA Conferences in September and October.
They were informed that the appointment of Spa Crest and Villeroy & Boch specialist hot tub retailer Alex Kemsley from Waterstream as BSPF President in 2016 will still go ahead, as well as that of Will Dando MISPE as the 2017 President, while the future of the role is being debated and voted on.
Ahead of the BSPF Board Meeting later this month, BISHTA, SPATA and BSPF PR and Marketing Manager Sallie Golding reported that the attendees of next year's Conferences will be given an opportunity of voting to determine if the BSPF President title is to continue after Alex and Will serve their 12-month period of office.
BISHTA and SPATA members will be updated on the issue in the New Year and if the attendees at the autumn Conferences vote to dispense with a BSPF President, it could potentially lead to a higher profile being awarded to the respective BISHTA and SPATA Chairmen in years to come.
"The role of the BSPF President was mentioned at the annual conference and is now to be discussed at the BSPF Board meeting on November 27," said Sallie.
"Any updates on the proposals for the role will be notified to members in the New Year, with an opportunity to comment on and then vote on at the next annual conference in Autumn 2016."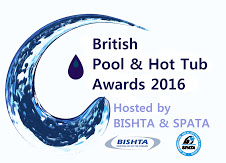 BISHTA and SPATA members are also being urged to act quickly and take advantage of the last opportunity to submit their entries for the respective 2016 BISHTA and SPATA Awards, which can be submitted online, before tomorrow's November 6 deadline.
"We don't want our members to miss out on the opportunity to provide their company with the chance to win an award," said Sallie.
"It's their chance help the industry promote itself to the commercial and domestic audiences who will be our next customers."
Tickets for the industry gala dinner hosted at the Ricoh Arena in Coventry during the 20th anniversary edition of SPATEX, featuring the British Pool & Hot Tub Awards and the re-presentation of the ISPE awards are available from the BSPF office, priced at just £69.95 plus VAT per person.
To book exhibitor stand space for SPATEX 2016 contact the SPATEX team via email: helen@spatex.co.uk or michele@spatex.co.uk or telephone +44 (0) 1264 358558.