Book a seat for virtual awards
Hot tub and wet leisure specialists are being urged to book a 'virtual seat' for the 2021 British Pool & Hot Tub Awards taking place online next week after the opening day of SPATEX Virtual.
Not to be stopped by the current Covid-19 lockdown measures, the 2021 British Pool & Hot Tub Awards presentation is scheduled to commence for convenient online viewing at 5pm on Tuesday, February 2, after the first outing of the SPATEX Virtual digital format, which is running with 'live' online capability from February 2 to 4. Viewers can ensure they can access the wet leisure product showcase and awards ceremony if they have pre-registered online.
The inaugural online awards ceremony for the British Pool & Hot Tub Awards will be presented by professional voiceover artist Gina Mellotte; who recently voiced the virtual Food Matters Live 2020 Awards ceremony in October and whose clients include BAFTA, BBC, Disney, FOX TV, ITV, MTV, National Geographic, and London Olympics 2012. With BISHTA and SPATA Managing Director Chris Hayes opening the awards ceremony, your virtual seat will then allow you to witness scheduled awards presentations from ISPE President Phil Barlow, BSPF President Jamie Smith, BISHTA Chairman Pete Grinnall, SPATA Chairman Richard Carrington; and organisers have revealed that a 'VIP Guest' will be joining the BISHTA and SPATA ceremonies for the first time to announce the industry's top awards.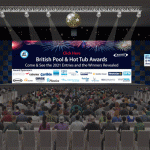 This new virtual awards event format; sponsored by a host of leading wet leisure product specialists; including: Astralpool UK, Barnsley Hot Tubs, Bayrol Spa Time, Calorex, Certikin, Complete Spas, CPC, Dryden Aqua, Golden Coast, Heatstar, Jacuzzi, Nsure, OASE, Plastica, Pollet Pool Group, Rotospa, and Sprayed Concrete; is set to open with a short re-presentation of the 2020 ISPE Awards, followed by the results of the 2021 BISHTA Awards and will then close with the subsequent presentation of the 2021 SPATA Awards, where guests are invited to join the celebrations with their very own virtual parties.
BISHTA Awards include the prestigious 'Showroom of the Year' accolade, which was presented to Jacuzzi and Sundance Spas specialist retailer Outdoor Living last year for its showroom facility in Leeds.
"The viewing of the whole event should take approximately one hour and registering to 'attend' can be completed by just a 'tick' of the box against 'See the 2021 Industry Awards revealed' when registering to attend the SPATEX 'Virtual' Exhibition," explained BISHTA PR & Marketing Manager Sallie Leslie-Golding.
There is also the capability to enter the 'Awards Lounge' from the main lobby when SPATEX Virtual goes 'live' on Tuesday morning and you can also visit the dedicated virtual BSPF Stand to view movies or PDF's of this year's BISHTA and SPATA entries before the main presentation event.

"The British Pool & Hot Tub Awards are the longest established and most prestigious swimming pool, spa, hot tub and wellness awards event in the UK, attracting entries from companies across the country, and some from overseas," said Sallie; "These awards bring together BISHTA and SPATA to celebrate the achievements and acknowledge the best, boldest and most creative projects from its members."
Since the previous traditional British Pool & Hot Tub Awards event at the Ricoh Arena in Coventry these members have had to be flexible to work under Covid-secure measures and cope with unique circumstances with national lockdowns preventing showrooms opening to the public, including the latest 2021 restrictions, while demand for hot tubs has increased dramatically with BISHTA helping to run an 'Everydaycation' marketing campaign with Pool Industry Promotions (PIP) to highlight wet leisure product benefits from the hot tub and pool industry, while warning of scams, fraud, and hot tub Covid-crooks.
Sallie Leslie-Golding has been instrumental in promoting the impact of the 'Everydaycation' campaign and website www.everydation.co.uk with campaign assistance from PR specialists Speed Communications and a link up with the Metro newspaper that ran a hot tub prize donation by multi-brand hot tub and swim spa retailer 1 Stop Spas, which is opening an additional showroom location this year after becoming the official UK distributor of Tuff Spas and introducing the Master Spas UK products to its American Whirlpool, and Marquis options.
"We're spreading the hashtag #everydaycation far and wide," reported Sallie; "Along with eye-catching lifestyle images and links to the campaign website to inspire consumers to purchase, educating them along the way with water leisure tips and lifestyle improvements."
Registration for SPATEX Virtual is free and takes seconds to complete at: https://spatexvirtual.vfairs.com/en/registration This provides access to all the SPATEX Virtual exhibitors including leading distributor Superior Wellness, and Award Leisure Franchise, who are sponsoring cash prizes for those 'visitors' who rack up the best attendance figures.