Certikin covered to top SPATEX billing
Hot tub and wet leisure powerhouse Certikin is all covered to top the bill at SPATEX with the largest stand in the Ericsson Exhibition Hall as part of five eye-catching stands brimming with new products.
The exclusive Caldera Spas hot tub distributor is rolling out its own dedicated hot tub covers, along with shining the spotlight on the six-seater Caldera Spas Tahitian model to entice additional retailers to adopt the brand at their showrooms, as part of a full hot tub, swimming pool and extensive wet leisure product line up to capture a large percentage of footfall with the 'nap hand' of stands during the three days of SPATEX at the Ricoh Arena in Coventry.
Certikin will be utilising the SPATEX platform, from January 28 to January 30, to unveil the British manufacturing credentials of hot tub covers that are tailor-made to almost any size and shape, including swim spa models, from the highest-grade materials at the company's production facility in Yorkshire.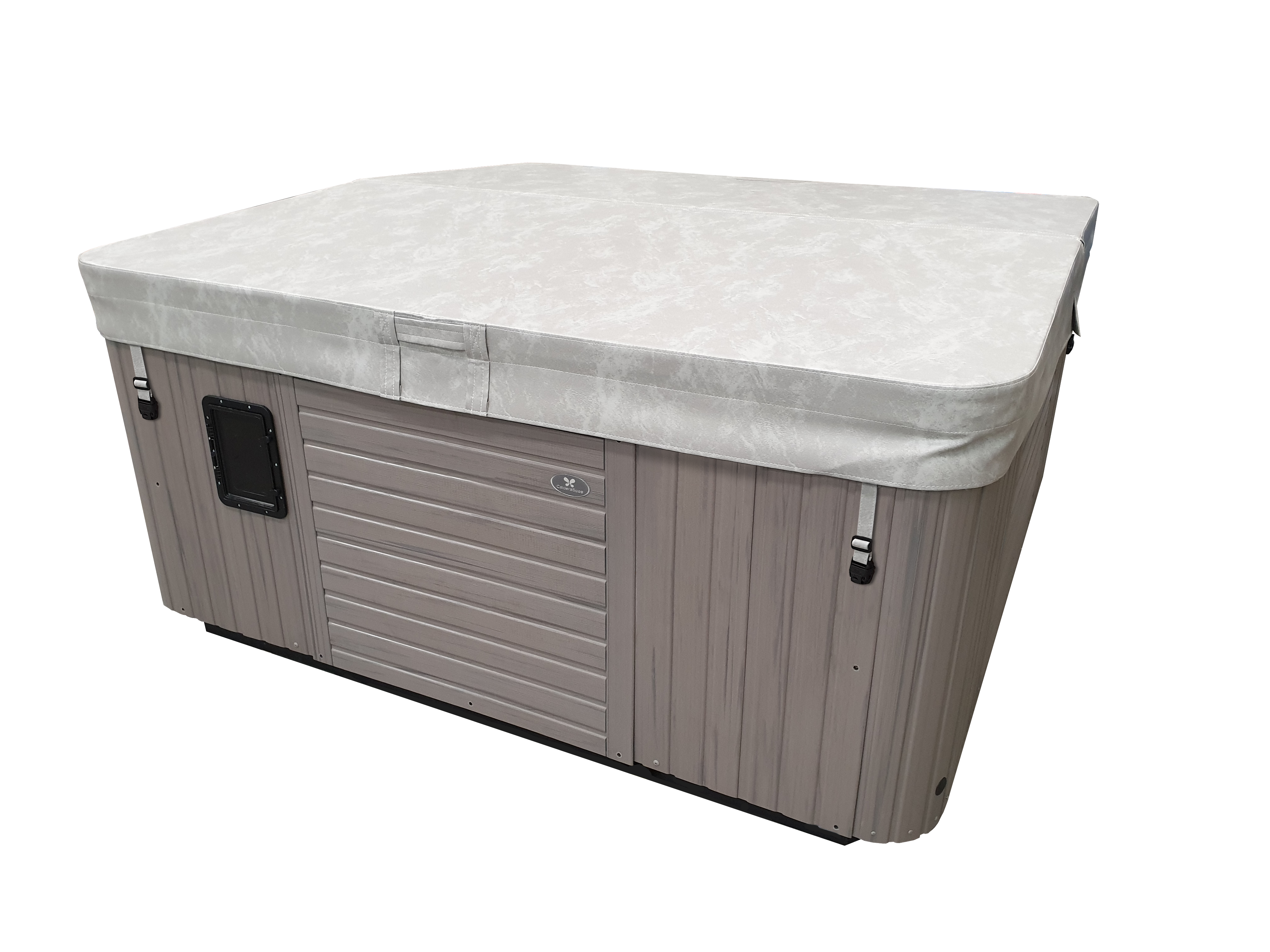 One of the key elements of the spa cover promotion is the fact that rigorous testing takes place at the Leeds-based manufacturing plant to ensure the finished product importantly meets the requirements for spa covers within the recently launched European Domestic Spa Standard EN17125, and the safety aspects of the commonly quoted American Standard ASTM F1346-91. 
Certikin has reported that its use of superior materials results in a premium-quality product offering high levels of durability and heat retention at a competitive price. Twelve colour options are available, all in high-quality UV and mildew protected marine grade vinyl, and in three tapered thicknesses. Some common sizes and colours are held in stock for quick dispatch and can be obtained by contacting Certikin's Witney-based spa division on 01993 777200 or via email at: edobinson@certikin.co.uk
Coming in at 213 x 213 x 91cm, the six-seater Caldera Spas Tahitian is from the same Utopia Series as the Caldera Spas Cantabria, which comes in at 274 x 231 x 97cm and has gained a 2019 WhatSpa? Best Buy Award in the £15,000 Plus price category to add to its successive list of prestigious accolades from the consumer magazine.
The six-seater Caldera Spas Marino from the Vacanza Series, which comes in at 213 x 213 x 91cm and incorporates lounger seating within its design, gained a WhatSpa? Best Buy in the £6,000 to £7,999 price range; along with its Vancanza Serious counterpart and six-seater Caldera Spas Palatino, which comes in at 226 x 226 x 98cm and also has a lounger seat within its seating configuration, achieved a WhatSpa? Best Buy accolade in the £8,000 to £9,999 price range; as part of an impressive 2019 WhatSpa? Best Buy 'hat-trick' for USA manufacturer Watkins Wellness that created history recently with the 'industry first' major milestone of rolling of its 1.5 millionth spa from its production line.
These and other Caldera Spas models, including additional options from the Paradise Series, will be promoted to established retailers during SPATEX as part of the latest campaign by Certikin to extend its thriving hot tub dealer network that it boasts is professionally supplied by one of the best back-up services in the British market.
During and after SPATEX Certikin would like to hear from prospective dealers who have sales experience and a display site and are interested in gaining the multiple advantages of joining the Caldera Spas network; which includes multiple BISHTA Award-winning All Swim Limited in Cardiff, as well as Rotherham-based Oasis Hot Tubs and Spas in Rotherham, Hereford-based Three Counties Pools & Spas, and Holland-on-Sea based SPS Swimming Pools & Spas.
As part of its extensive top billing status, Certikin's main presence on Stand D14, in the centre of the Ericsson Exhibition Hall, is also set to be a glittering showcase of new products and to whet the appetite for prospective visitors from across the entire wet leisure market the company has revealed five products that will be under the SPATEX spotlight.
These are: Versoflor – a revolutionary flooring product featuring a unique push-in mosaic system allowing the capability to create amazing spaces with the ultimate flexibility; Endless Pools Hydrostride – an ingenious underwater treadmill providing low impact aquatic exercise; Fastlane Sport XP – a fully self-contained counter current unit suitable for most types of installation; FlowVis Digital – representing the next level in flow meter technology; and EPS Easy Build In-pool Corner Steps – an easy solution for adding a step unit to liner pools.
Adjacent to the main stand is Certikin's CertiDos STAND D30, highlighting chemicals and dosing, and the Calorex/Certikin STAND C14. The latter is being manned by Certikin's H&V specialists who will be ready to advise on how the carbon conscious Calorex units can reduce pool running costs and demonstrate the technicalities of Calorex's best-selling equipment.
In addition, there will be a Certikin Autocovers STAND D10, featuring the best-selling Roldeck slatted cover and the Coverstar safety cover. The fifth stand for the NIVEKO showcase on STAND C16, with its stunning one-piece display pool, is also set to attract a large percentage of visitors.
Certikin Marketing Manager Chris Green believes this latest SPATEX outing will be the ideal opportunity to 'fly the flag' for the company's extensive product range and the wet leisure industry.
"Certikin regards SPATEX as one of the industry's most important dates and it's a great opportunity to fly the flag both for ourselves and the Industry as a whole," said Chris.
To find out about more about becoming a dealer for the Caldera Spas and Fantasy Spas hot tub ranges and opportunities for supplying other wet leisure product lines visit the Certikin Stand D14 during SPATEX. Other dedicated product stands are Calorex STAND C14, Certikin Dosing STAND D30, Certikin Autocovers STAND D10, NIVEKO STAND C16. Alternatively if you require immediate information call Certikin directly on 01993 777200.
For stand bookings and information for SPATEX, contact the SPATEX team via email: michele@spatex.co.uk or helen@spatex.co.uk or directly by telephone on: +44 (0) 1264 358558.