Certikin creating wet leisure product waves
Certikin International has flexed its industry muscles to increase a formidable presence in the market by ramping up its wet leisure product provision to maintain a wave of success across the board.
Ahead of the powerhouse exhibiting at the three-day SPATEX showcase at the Ricoh Arena in Coventry, Certikin Managing Director Neil Murray reported that business has been booming across all sectors and that the future is looking bright for the proactive company that is launching multiple products this year.
"The upturn in the economy and the warm summer meant that we were kept busy across all sectors of the business," said Neil; "Clearly there is confidence about the outlook for 2015 on the back of a good Indian summer and a growing economy."
Certikin is now increasing its product lines for hot tub retailers after highlighting its status as exclusive distributor for the Caldera Spas range with a special promotion for the brand's Vacanza Series. A free BOSE SoundLink Mini Bluetooth speaker was provided with every order during SPATEX from the Vacanza stable, including the best-selling WhatSpa? Best Buy Award-winning Marino, Capitolo, Palatino, Aventine and Celio.
David Steptoe, who provides Sales and Technical Support for the UK Caldera Spas dealer network, was on hand to support the exclusive offer as part of Certikin's large multiple stand display presence in the Jaguar Exhibition Hall to showcase examples from its extensive range of over 8,000 products, which has been enhanced with the addition of the Fantasy Spas models from Watkins Manufacturing. He reported that the Marino had once again outperformed its Vacanza counterparts in the sales stakes, and those in the Utopia Series and Paradise Series.
"The Marino always performs well for us and has once again it has been our best selling Caldera Spas model," said David.
To gain a greater share of the hot tub market, Certikin is now aiming to build on its flourishing Caldera Spas dealer network with the introduction of the newly launched Fantasty Spas range. A trio of models have been launched for existing dealerships to capitalise on as well as being made available for the first time to all British retailers.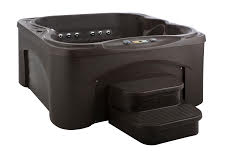 Certikin Director Ben Studdy is spearheading the Fantasy Spas promotion for the three-seater 'Embrace', four-seater 'Drift', pictured, and five-seater 'Entice', for hot tub retailers requiring rugged entry-level options for their showrooms ranging in price from £3,042 to £4,157.
"These new Fantasty Spas are not just available for our Caldera Spas dealers," reported Ben.
"We are making them available to all hot tub retailers who want to supply them as entry-level options in their showrooms."
The new Fantasy Spas models are among Certikin's dazzling array of latest cutting-edge wet leisure products that are hitting the market this year. These include a non-invasive ePIPE system to allow spa and pool specialists to effectively detect and rectify leaks.
Thanks to an epoxy resin coating, ePIPE ensures pipe leaks can be rectified with the coating that gives a solid layer to the inside of pipes and a firm barrier to leaks, once they are identified by pressure testing.
Before being promoted at SPATEX, the ePIPE system's capabilities were highlighted at Certikin's 2015 National Seminar & Showcase. The combined event in January replaced the previous format of three individual days and was hosted at HeythropPark in Oxfordshire to allow around 250 wet leisure professionals to meet with Certikin's technical team and suppliers from around the globe.
A SpaPilot for portable spas has also been launched to increase the options in the Autopilot salt chlorinator range, which can be installed in new tubs or retro fitted. It produces 9g of chlorine per hour and the low salt level is designed to operate at only 1300 ppm. It comes with a digital display, push button controls, boost button and boost LED indicator, built in diagnostics and error reporting.
Other products being lined up for wet leisure specialists this year include Certikin's new range of UV Systems; a LumiPlus Mini LED light range; a variable speed drive Invertor that can be linked to a Building Management System; two new Vaporex 34 and 56 air-to-air heat recovery dehumidifier models; a Fluvo X-Jet; as well as Viron eVo Pumps; a Dolphin E10 light robotic cleaner and a Dolphin Wave 50 commercial 'plug and play' cleaner; and Aquacomet retractable enclosures.
To ensure highly flexible interior room and wet area solutions, Certikin is also providing Harvia Spa Modules and the capability to design and supply the Elements for part or complete projects for commercial spa destinations or home steam rooms and shower recesses.
"Each year the Certikin line-up gets better and better," said Certikin's Marketing Manager Cath Saunders.
Following three successful days for the company at SPATEX, Cath is also helping to enhance Certikin's promotion of its relationship with Rigo Spa to provide customers with stunningly unique commercial and domestic in-ground tiled spas and swimspas.
Among the skimmer (freeboard) spas that are currently available for bespoke projects are the 2.25m Octagonal and the 2.4m Square design; while the Deck Level Spas include the 2.4m Octagon Spa, 2.5m Circular Spa and 3m Cascading Spa. The swimspa options are the 4.5m, 5m, 5.5m, 6m and 7m x 3m designs.
"We've been working with Rigo Spa for a while now and we are delighted to be helping them promote their stunning tiled spa and swimspa options to our customers," divulged Cath.