Certikin relocates for operational efficiency
Exclusive Caldera Spas and Fantasy Spas distributor to the UK market Certikin is planning for increased operational efficiency and further growth after relocating to new headquarters in Witney.
The new Certikin HQ on Witney's Downs Road is located at the 24-acre Tungsten Park site, which is just 500 metres from a new junction on the A40. This provides easy access to Oxford and Cheltenham and, in turn, the main arterial routes of the A34, M40 and M5 motorways. It will now house the UK's largest stock of water leisure equipment, comprising over 9,500 product lines for both domestic and commercial pools for new build and retro-fit markets as well as wellness, spas, saunas and aquatics.
Certikin has occupied its current offices and warehouses in the thriving Oxfordshire market town of Witney for 31 years, during which time it has expanded its footprint in the same location several times. However, the building no longer meets the requirements of a burgeoning business.
Determined to retain the experienced and loyal workforce together with its central location, Certikin secured a 125,000 sq. ft site just two miles down the road and the construction of the purpose-built warehouse and office development began in the Autumn of 2019.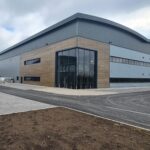 Such is the speed of the construction of Certikin's new HQ, pictured, that practical completion has been achieved and the fit out programme has started in earnest. A gradual transference of business has commenced, with the new Tungsten Park site fully operational at the end of 2021.
This new Witney site location is in addition to the company's state-of-the-art, computer-controlled swimming pool liner plant based in Leeds, for manufacturing of tailor-made pool liners and covers as well as a range of EPS steps and spa covers.
"As well as being an ideal location, Tungsten Park offers us the space and enhanced facilities that we need to suit the complex needs of our growing business," said Certikin Managing Director Neil Murray.
"This, combined with the dedication of our loyal 130-strong workforce, will improve our operational efficiency and secure Certikin's future."
Current and prospective Caldera Spas and Fantasy Spas dealers have the peace of mind, including an excellent before and after sales service, of knowing that both brands are produced by global hot tub giant Watkins Wellness and exclusively distributed by experienced supplier Certikin to a network of UK dealers.
The company will be promoting current Caldera Spas and Fantasy spas ranges and new Watkins Wellness models as part of its triple stand presence at SPATEX 2022, running from February 1to 3, at the Coventry Building Society Arena, as well as highlighting a wide range of products and combined services, as part of its status of being the largest British supplier and manufacturer of wet leisure equipment.