Changing tide with unique tandem capability
Coast Spas Manufacturing is making historic waves in the swim spa market after launching an innovative 21 foot swim spa that provides the capability for tandem swimmers to take advantage of advanced design functionality.
Not resting on its unique design production laurels and WhatSwimSpa? Best Buy Award-winning achievements, including the latest prestigious accolades for the Wellness II Loungers, Wellness Infinity Ultra and Wellness IV Dual Zone models, the Canadian hot tub and swim spa manufacturer has produced the 2100 VE as part of its Swim Collection to provide dealers with an extra competitive sales and marketing advantage over traditional swim spas with the double delight functionality from the world's largest 'Infinity Edge' swim spa.
Innovation is not new to the Vancouver-based company, including being famed for being the first and only manufacturer to introduce a 'vanishing edge' on a portable spa, as incorporated in the WhatSpa? Best Buy Award-winning Classic Horizon 40 for owners to take advantage of panoramic views, and being the first to add levitator jets in a swim spa.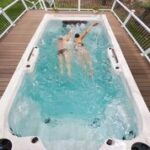 Now the 2100 VE, pictured, which incorporates the Coast Spas patented Infinity Edge technology, dual 24" waterfalls and  luxury stainless steel massage jets, is following this tradition after being designed and produced with a wide enough shell to accommodate dual occupants and the capability for swimming in tandem or close proximity exercising.
Coming in at 655 x 229 x 161cm, the 2100 VE has a 10,487 litre capacity; which is considerably more than the 6,639 litre capacity of the Wellness IV Dual Zone model; and has a dry weight of 1815KG and wet weight of 12,302KG. It is Smartphone Remote Control Compatible and features Extreme XL Water Diverters, 67 Trillium Stainless Steel Massage Jets and four Swim Resistance River Jets.
Other design features include: Dual Stand Up Therapy Zones, Colour Touch Screen Controls, with user-friendly intuitive icons and animations; Air Controls, to customise hydrotherapy for individual use; Digital Float and Fill Guage, to take the guess work out of filling the overflow tank; Streaming Water Ropes – Laminars, to provide the soothing sound of running water.
Providing commercial grade pressurised filtration with the Coast Spas extreme performance and patented Hydro Cyclonic Filtration, 2100 VE provides not just one, but two of these systems. The decision was made during the design process to incorporate twin 175sq ft Dual Core Filters to ensure that the water quality, especially within a swim spa of this size, is second to none. In addition, the unique vanishing edge acts as the world's largest skimmer.
Designed to be within a category of its own, the 2100 VE's vanishing edge provides the swimmer and bather with barrier-free views, zero water displacement and the largest skimmer in the industry that is a unique feature only available from Coast Spas; which has achieved ISO 9001:2015 certification, that is the highest internationally recognised quality standard for manufacturing.
As part of the promotion for the launch of the advanced unique swim spa, Coast Spas has proclaimed that due to its unprecedented width and length the 2100 VE will change the way people now use swim spas. Two bathers or more can now be in the same swim environment for dual swimming or they can participate in different activities. For example, a swimmer can be going through their stroke routines in the 2100 VE while someone else is exercising whether on resistance equipment, an aqua bike, or practicing aquafit exercises.
Dealers will now be able to promote the fact that the new swim spa, which has a swim tether, exercise bands and row bars, can boost social and physical activity to further improve the health and wellness of owners,. Such a focus is important to Coast Spas as wellness has always been part of the manufacturer's core values. The long standing working relationship with Arthritis Research Canada (ARC) in building spas that address the needs of arthritis sufferers is a testament to the strong commitment to health and wellness.
Coast Spas founder and former CEO Don Elkington, who has been succeeded by Patricia Diamente as CEO, has recently completed his term as Vice Chair for ARC, which is marking its 20th anniversary this year after two decades of helping to support vital arthritis research.
As well as playing a pivotal role in helping ARC to continue its research and taking part in fundraising events, Don has also been instrumental in promoting the advanced capabilities of Coast Spas hot tub and swim spa models that have been helping owners to ease arthritis pain.
"In one way or another, arthritis touches us all," said Don; "Yet, arthritis continues to be an invisible disease and in some cases a silent killer."