Chris wraps up wet leisure present
Multi-brand hot tub and swim spa retailer Chris Brady and his 1 Stop Spas installation team ensured a customer celebrated her 40th birthday with special Marquis and Vita Spa presents after an intensive three-day installation.
Chris is one of the UK's top Vita Spas dealers and has also taken on the Marquis brand of hot tubs and swim spas at his new Billinghay-based showroom in Lincolnshire. Along with his professional team of joiners, Chris utilised all of his expertise to help provide Becky Killen with a dream birthday package of a bespoke cabin installation project for a Vita Spa XSP 16.5ft swim spa model and Marquis Epic Ultimate with MicroSilk hot tub.
A key requirement of this installation, which is a featured project in the latest 2016 edition of WhatSwimSpa? magazine, was that it had to be completed within three days before Becky's 40th birthday party celebrations. Chris and his team of installers and joinery professionals pulled out all the stops and ensured the swim spa and hot tub project made a big splash with the party guests.
"It is amazing and the finished project is much better than we thought it would be," said a delighted Becky; "It has surpassed our expectations.
"During my 40th birthday party all of the kids went in the swim spa and hot tub and loved it. Then all of the adults wanted to know when we were having a swim spa party for them!"
The Vita Spa XSP; which has gained WhatSwimSpa? Best Buy Award-winning status thanks to its pedigree credentials that include six swim jets, a large dedicated open space for swimming, LED lighting and a Bluetooth surround sound system, as well as a heavy-duty steel subframe and energy-efficient insulation; was chosen to be the main feature of the wet leisure project by Becky and her husband Dean to help their son Samuel who is a member of the Boston Swimming Club.
In addition, the Killens opted for a specialist bespoke End2End swim spa cover that has been launched to the network of British dealers by Aqua Warehouse Group, who supply 1 Stop Spas with their Vita Spa hot tubs, which include the WhatSpa? Best Buy Award-winning Vita Spa Cabaret and Vita Spa Prestige; and swim spas, which include the 2016 WhatSwimSpa? Best Buy Award–winning Vita Spa XL4 and Vita Spa XSP.
"One of the main reasons we wanted a swim spa was to help Samuel with his swimming," reported Becky. "He is a member of the Boston Swimming Club and although he is not yet competing we wanted a swim spa to help him to enhance his technique and training.
Thanks to the decision to also purchase the Marquis Epic Ultimate hot tub, which is incorporated with MicroSilk technology and comes in at 229cm x 229cm x 90cm, there is now the provision of natural relief for Becky's eczema.
Along with increased skin metabolism and enhanced skin cell growth the MicroSilk microbubble technology is helping owners who have eczema and psoriasis and as a result the Marquis Epic Ultimate with MicroSilk has achieved major European for the brand, which has been bestowed with a trio of 2016 WhatSpa? Best Buy Awards for the The Broadway, The Spirit and The Epic, plus 2016 WhatSwimSpa? Best Buy Awards for the Marquis ATV-14 Sport and Marquis ATV-17 Kona.
"Every time I've been in the Marquis hot tub I've used the MicroSilk feature and it is really good for my eczema," reported Becky. "I could see and feel the results straight away. My skin now feels so much better."
Due to the nature of the installation deadline, time was of the essence and the 1 Stop Spas team had to work around the clock to meet the tight schedule. Despite having the time ticking away Chris and his team provided a professional result.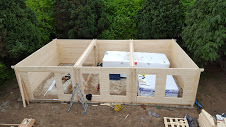 As part of the project Chris designed the bespoke Palmako cabin, pictured during construction, to ensure total undercover enjoyment of the Marquis hot tub and Vita Spa swim spa. It also features doubled glazed windows and doors and has a built in bar area.
"All of the team was buzzing when we completed the installation project on time," said Chris. "We'd worked day and night during the three days to ensure that everything was ready for Becky's birthday and it felt at times like we were working on one of those home makeover programmes on the television.
"It was a fantastic feeling once we had finished and the result was the one we had set out to achieve. It was a new kind of test for us as a company, but it is one that we've now successfully passed.
"We're now going to be promoting this installation to other prospective customers in the future as an example of what we can provide and delivery in terms of a complete wellness retreat package and installation."